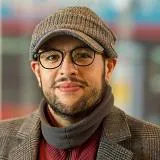 Raúl Zepeda Gil
PhD Student
Teaching Assistant in the War Studies Department
Research interests
Conflict
Conflict and security
Politics
Contact details
Biography
Raúl is a PhD Candidate in the Defence Studies Department, and Graduate Teaching Assistant in the War Studies Department. In King's College London is part of the Conflict, Security & Development Research Group, the Contemporary Marxism Research Group, and the Environmental Security Research Group.
Previously, Raul earned a master's degree in Political Science from El Colegio de México and a bachelor's degree in Political Science and Public Administration at the National Autonomous University of México (UNAM). He was a teaching lecturer in FES Acatlán, UNAM, on economic policy, comparative politics, and international relations theory.
In his professional career, Raul has been Junior Officer on Democratic Culture and Peace in the Morelos Government, a Junior Researcher on Mexican politics at the Institute Belisario Dominguez of the Mexican Senate, external advisor on legislative affairs for the Undersecretary of Budget of the Mexican Finance Secretariat, and Director General of Legislative Liaison of the Secretariat of Economy.
He is part of the Noria Research Programme for Mexico and Central America, the Urban Violence Research Network, the Seminar of Violence and Peace of El Colegio de México, the International Political Science Association, the Mexican Society of Students in the United Kingdom, and the British International Studies Association.
Research Interests
The political economy of conflict
Sociology of armed groups
Disaster management and climate crisis
Civil-military relations
Mexican Politics
Politics of inequality
Peacekeeping and peacebuilding
Education policy
PhD Research
The Making of a Sicario Class: Youth Mobilisation into the Mexican Criminal War (2007-2020)
In 2006, Mexican President Felipe Calderón deployed the Mexican Army into southern Mexico streets to dismantle criminal drug trafficking organisations. Since then, homicide rates have escalated from 8 to 25 homicides per 100 thousand inhabitants, according to the National Institute of Statistics in Mexico. A broad academic debate has taken place to understand this conflict. This thesis asks why do young men decide to join deathly activities in the context of widespread conflict?
This research addresses the current gap in the mobilisation question. This research argues that this mobilisation happened in the Mexican regions connected to international drug trafficking with a significant share of young men labour ready to join the conflict. These young men experienced low social mobility and were employed in agricultural and informal occupations with relatively low salaries. Criminal organisations in Mexico aimed to recruit these young, marginalised men to have enough violent workforce to confront the military's deployment by the Mexican government. This process happened in a relatively weak state prone to corruption and with the presence of illegal guns flowing from the deregulated firearms market in the United States.
To demonstrate this argument, this research approaches the subject by testing the divergences and convergences in diverse research fields in sociology, political science, and criminology regarding violent crime and conflict with the case of the Mexican Criminal War case using a mixed-methods approach.
This thesis uses novel databases on inmates and homicide victims and will conduct focus groups and oral stories of young men students, ex-convicts, and juvenile detainees. This study aims to draft a middle ground theory of mobilisation into criminal wars and mercenary armies' class-formation from a political economy perspective
Supervisors
Dr Sukanya Podder and Professor Mats Berdal
Publications 


Zepeda Gil, Raúl & Pérez Ricart, Carlos A. (2022), "Effects of long-term development and schooling expansion on the decline in homicide rates: Mexico from 1950 to 2005" Journal of Crime and Justice: https://doi.org/10.1080/0735648X.2022.2050277
Zepeda Gil, Raul (2018), "Violence in Tierra Caliente: Income inequality, economic development and education rates in the Mexican drug war", Estudios Sociológicos, 36(106), January, pp. 126-163. [In Spanish]
Zepeda Gil, Raul (2018), "Seven explanatory approaches about the increasing of violence in Mexico", Política y gobierno, 25(1), January, pp. 185-211.
Zepeda Gil, Raul (2016), "The Game of Budget Allocation for the State Public Universities in Mexico after Mexico's transition to democracy", Revista Mexicana de Investigación Educativa, 21(70), July, pp. 901-928. [In Spanish]
Zepeda Gil, Raul (2016), "Democracy, the Military and Mexico's Foreign Policy: The Case of the Absence of Mexican Military in Peacekeeping Operations of the United Nations", Foro Internacional, 56(225), July, pp. 633-656. [In Spanish]
For a full list of publication, please refer to the Research Portal.
Conference presentations
· Zepeda Gil, R. (2021). "The Debate about the definition of the Mexican Violent Conflict: towards a useful concept". World Congress of Political Science - Online, Lisbon, Portugal https://doi.org/10.31235/osf.io/d9ync
Book chapters
· Zepeda Gil, R. (2022). Micro-dynamics and Political Economy of the Criminal War in Tierra Caliente, Mexico. In C. Solar, & P. R. Carlos A. (Eds.), Crime, Violence, and Justice in Latin America (1st ed.). (Routledge Studies in Latin American Politics). Routledge.
· Zepeda Gil, Raul (2018), "Which State to Build Peace in Mexico?", In Zepeda Gil, Raul & Aguayo Quezada, Sergio (eds.). Statebuilding and Peacebuilding in Mexico: Memories from the Second Conference on Violence and Peace. Mexico City: El Colegio de México, pp. 13-30. [In Spanish]
Technical reports
· Zepeda Gil, R., & Vargas Pineda, L. R. (2021). Global Britain: Views from abroad: Mexico. The UK in a Changing Europe. https://ukandeu.ac.uk/wp-content/uploads/2021/09/Global-Britain-views-from-abroad.pdf
· Zepeda Gil, Raul; Huerta Pineda, Alejandra; Sánchez Correa, Mara Karina y Sánchez Ramírez, María Cristina (2018), Mexico's climate change vulnerability: A Review of the National Risk Management System, Instituto Belisario Domínguez, Mexican Senate. [In Spanish]