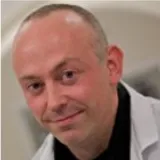 Dr Richard Southworth
Reader in Cardiac Molecular Imaging
Contact details
Biography
Rick completed his Ph.D. in cardiovascular biochemistry at the Division of Cardiovascular Research, UMDS, working under Professors Frank Kelly, Michael Shattock and David Hearse. After a post-doctoral position at the National Heart and Lung Institute, Imperial College London, he moved to Radiological Sciences, KCL. Working with Dr. Pamela Garlick, his research focused on developing, optimising and finding new applications for the PANDA system, a unique combined PET imaging/high field NMR system. He was appointed Lecturer in the Division of Imaging Sciences and Biomedical Engineering in 2008, and promoted to Senior Lecturer in Cardiac Molecular Imaging in 2016.
His group has two main aims - to utilise new imaging techniques to understand cardiac biology, and to use their understanding of cardiac biology to develop new imaging techniques. They use high field NMR imaging and spectroscopy, and PET and SPECT imaging to characterise the biochemistry of the heart during health and disease. They then use traditional biochemical assays (and less traditional ones like immunogold electron microscopy) to provide biochemical context to the data that their imaging techniques provide. They also employ the process in reverse, for example utilising isolated hearts and NMR spectroscopy to help validate and characterise the novel PET and SPECT imaging agents that we are developing.
Much of Rick's current work focuses on developing molecular imaging tools capable of non-invasively detecting tissue hypoxia, oxidative stress, and mitochondrial injury. These tools would allow the detection of chronic cardiovascular disease earlier than is currently possible clinically by measuring late changes in cardiac contractile structure or function. His group are investigating the potential of these tools in the early detection of chronic cardiovascular syndromes including microvascular disease, cardiotoxicity associated with chemo- and radiotherapy, and heart failure with preserved ejection fraction, and as non-invasive readouts of the effectiveness of new therapies aimed at the treatment of these syndromes.