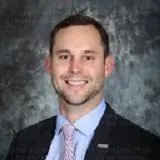 Rory Upright
PhD Student
Contact details
Biography
Rory Upright is a PhD candidate in the Blended Distance Learning Research PhD Programme with the King's College of London Department of War Studies. His research focuses on the use of the Carrier Strike Group as an alliance-building mechanism in this era marked by Great Powers Competition. Rory is a two-time former student of Texas A&M University with a BS in Computer Science and a Master's Degree in Public Service and Administration from Texas A&M's Bush School of Government.
Professionally, Rory is an active duty US Naval Officer and holds the rank of Lieutenant Commander. He is serving as a Weapons Systems Officer, flying in F/A-18 Super Hornet aircraft and is a graduate of the prestigious US Navy Fighter Weapons School (TOPGUN). During his previous tours of duty, Rory has worked as a contingency planner in support of various Combatant Commanders around the world. He has deployed in support of Operations ENDURING FREEDOM, FREEDOM'S SENTINEL, and RESOLUTE SUPPORT, and has amassed more than 1500 flight hours in the F/A-18.
Research Interests
Naval Strategy
Naval Diplomacy
Great Powers Competition
Alliance Building
Carrier Diplomacy
Thesis
Carrier Diplomacy in the GPC: Can the United States Counteract a Revanchist China?
The South China Sea (SCS) is the single flashpoint that will likely define relations between the United States and China in the Indo-Asia-Pacific (IAP) for the foreseeable future. China maintains its ambition to rise peacefully despite the United States' supremacy in the region, but has imposed its desires through aggressive – and sometimes illegal – methods. Some argue that China may be capable of immediately asserting regional dominance over the United States through fait accompli. As a result of China's revanchist policies, the United States has signaled a return to a Great Powers Competition (GPC), with subsequent operational concepts further orienting the US Navy toward this rising adversary.
The United States and its allies seek to maintain the "rules-based order" in the IAP, securing the favorable worldwide balance they enjoy. By analyzing the use of "Carrier Diplomacy," or United States' capability of employing its Carrier Strike Groups as an alliance-building mechanism, and by examining the competing maritime strategies through the lens of a professional naval officer, I seek to answer the following questions: 1) Could the United States be compelled to acquiesce to Chinese demands? Furthermore, 2) How can the United States prevent China from asserting hegemony in the IAP?
Supervisor