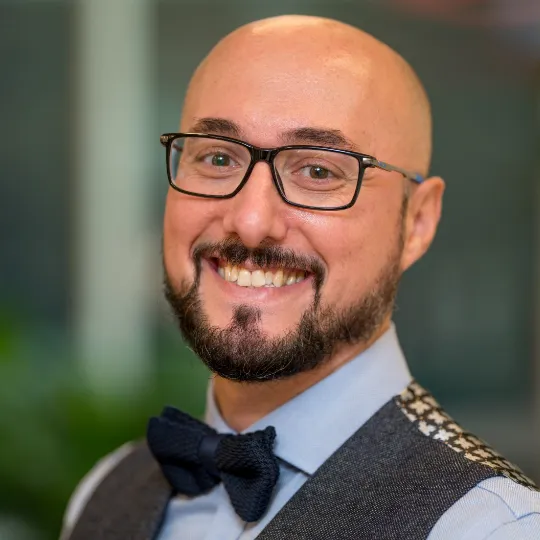 Professor Alessio Patalano
Professor of War & Strategy in East Asia
Director, King's Japan Programme
Research interests
Conflict
History
International relations
Security
Contact details
Biography
Alessio Patalano is Professor of War & Strategy in East Asia at the Department of War Studies (DWS), King's College London (KCL) where he specialises in maritime strategy and doctrine, Japanese military history and strategy, East Asian security, and British defence policy towards the Indo-Pacific. Prof Patalano is the Director of the King's Japan Programme and the newly established Indo-Pacific Programme at the Centre for Grand Strategy, a Fellow of the Royal Historical Society (FRHistS), a Visiting Professor at the Japan Maritime Command and Staff College (JMCSC), and an Adjunct Fellow at the Institute of Contemporary Asian Studies, Temple University Japan.He is a Senior Fellow at the think tanks Policy Exchange, Royal United Services Institute (RUSI), and Sir Herbert Richmond Fellow on naval strategy at the Council on Geostrategy.
He is also visiting fellow at the Royal Navy Centre for Strategic Studies (RNCSS) and non-resident fellow at the Royal Australian Navy Seapower Centre. From 2006 to 2015, he was visiting professor at the Italian Naval War College (ISMM), Venice. In Japan, Prof Patalano has held affiliations at Aoyama Gakuin University, the National Defence Academy, and at the National Graduate Institute for Policy Studies (GRIPS). In 2022, Prof Patalano became the first specialist advisor on the Indo-Pacific to the Foreign Affairs Committee in the UK Parliament. Prof Patalano is an active media commentator and writer (Nikkei, The Spectator); he collaborates on international documentaries, and is also regularly involved in military education, developing and delivering programmes on East Asian affairs.
Research Interests
Prof. Patalano's research on Japanese military history and strategy has received international recognition and has been recently credited to define the application of a strategic studies methodology to the study of contemporary Japanese security (CSBA 2020, 23).
His current research focuses on maritime strategy, Chinese hybrid strategy and maritime coercion, Sino-Japanese maritime territorial disputes, and the relationship between military power and statecraft in Japan. Unfolding from this theme, he is currently writing a book on the impact of navies on statecraft and world order, titled 'Steel and Statecraft'. He maintains active research collaborations with institutions across continents, from North America, to East Asia and Australia.
Selected Publications:
A. Patalano (with J. Russell and Cat Grant), eds., The New Age of Naval Power in the Indo-Pacific (Georgetown University Press, 2023).
A. Patalano (with J. Russell), eds., Maritime Strategy and Naval Innovation: Technology, Bureaucracy, and the Problem of Change in the Age of Competition (Naval Institute Press, 2021).
A. Patalano (with M. Faulkner), eds., The Sea and the Second World War: Maritime Aspects of a Global Conflict (University Press of Kentucky, 2019).
A. Patalano, Japan as a Sea Power: Imperial Legacy, Wartime Experience, and the Making of the Post-war Navy (Bloomsbury, 2015).
A. Patalano (ed.), Maritime Strategy and National Security in Japan and Britain. From the Alliance to Post-9/11 (Brill/Global Oriental, 2012).
A. Patalano, 'Why is a British Carrier Strike Group Heading to the Indo-Pacific?', War on the Rocks, 11 August 2021.
A. Patalano (with Christopher Hughes, and Robert Ward), 'Japan's Grand Strategy: The Abe Era and its Aftermath', Survival, Vol. 61, 2021:1, 125-160.
A. Patalano, 'What is China's Strategy in the Senkaku Islands?', War on the Rocks, 10 September 2020.
A. Patalano, 'The Silent Fight: Submarine Rearmament and the Origins of Japan's Military Engagement with the Cold War, 1955-1976', Cold War History, published online, 25 June 2019.
A. Patalano, 'When Strategy is Hybrid and Not Grey: Reviewing Chinese Military and Constabulary Coercion at Sea', The Pacific Review, Vol. 31, 2018:6, 811-839.
For a full list of publications please visit the Research Portal or download this document: Alessio Patalano Publications
Teaching
BA2 War and Strategy in East Asia
BA3 Contemporary Strategy in East Asia
MA East Asian Security
PhD supervision
Prof. Patalano is happy to consider supervision for projects concerning any aspect of military history, strategic, and security issues of Japan and modern/contemporary East Asia.