23 November 2021
Saki & Michael Dockrill Memorial Lecture focuses on controversial aspects of Kissinger's legacy
Professor Thomas Schwartz delivered a fascinating insight into Henry Kissinger to a large in-person and online audience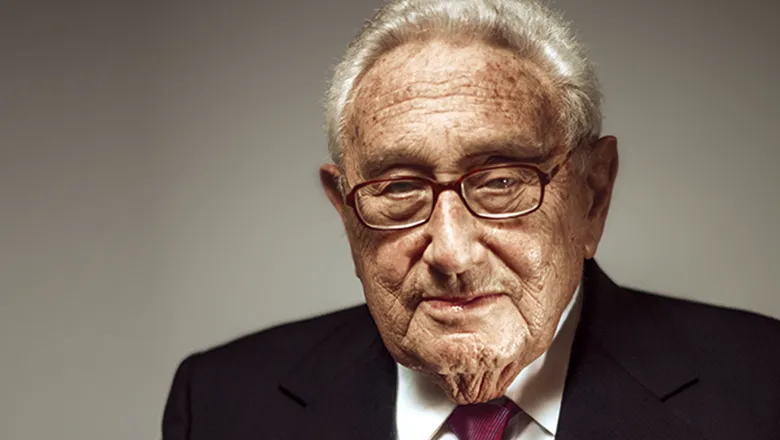 On 18 November 2021 Professor Thomas Schwartz, distinguished Professor of History at Vanderbilt University, delivered this year's annual lecture in honour of previous War Studies faculty and personal friends of Professor Schwartz, Saki and Michael Dockrill.
Chaired by Professor Niall Barr, Dean of Academic Studies in the Defence Studies Department, the event was held in person in the Great Hall and also streamed online to an audience of over 300 including Saki and Michaels friends, family and previous colleagues, members of the King's community, politicians, military personnel, notable historians and the general public.
Watch the recording of the lecture here
The talk explored the controversial issues surrounding the legacy around one of the most powerful and influential American diplomats of the 20th century, Henry Kissinger and how his lessons remain hotly contested within American public life. Professor Schwartz covered his association with some of the most important American foreign issues of the era, including relations with the Soviet Union, the opening to China, the end of the war in Vietnam, and the beginnings of peace in the Middle East.
Professor Barr introduced the talk, accompanied by a beautiful painting of Saki by Research Fellow Dr Lola Frost, acknowledging the profound impact and influence which Saki and Michael had on the War Studies Department, and the field of International History.
Saki was a thoughtful and highly productive scholar, and a gem of a human being

Professor Thomas Schwartz
Professor Schwartz began his talk by remembering the couple, particularly Saki whom he met at War Studies as they were both finalising their PhD's in the 1980's and whom he remained friends with.
He then discussed his book Henry Kissinger and American Power: A Political Biography (2020), the focus of the lecture, highlighting its unique nature as a 'history through biography' on Kissinger, as opposed to other authors who solely focus on his failings or his triumphs.
He continued to discuss Kissinger's role as National Security Advisor under President Nixon's administration, and his controversial task and associated implications of bringing foreign policy under the role of the White House. Although Kissinger received consistent resistance from senior figures, he ultimately maintained the continuing support of the American public concluded Professor Schwartz.
He then shared how Kissinger remained a highly powerful figure long into his retirement, and how alongside being a successful author, Kissinger remained involved in the US government; as Shadow Secretary of State under Carter and an Advisor to Reagan, Bush II, Clinton and Obama, his expertise being called upon to assist in more recent events such as 9/11.
Kissinger, I think, is a truly significant historical figure and symbol of America's international power. A man who played a critical role in American foreign policy during a transitional era and whose long life after his government service has allowed him to shape both the understanding of that era and America's subsequent history
The event finished with questions from the audience, spanning Kissinger's whole career, a drinks reception and a formal dinner.

In this story