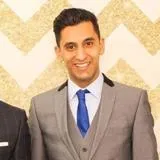 Dr Salim Hashmi
Lecturer in Education, BSc Psychology
Contact details
Biography
Salim joined King's College London in January 2019 as a Teaching Fellow. Currently, Salim teaches on three modules for the BSc in Psychology, two relating to research/psychology related skills and one that focuses on learning theory and individual differences. His research background is primarily in developmental psychology, particularly in relation to play, imagination, and children's interactions with technology. He also has experience in studying social understanding, executive function, and longitudinal study designs. Salim has previously taught as a Graduate Teaching Assistant (GTA) at Cardiff University from 2015 – 2018 as a part of his PhD. Salim received both my PhD and BSc in Psychology (with professional placement) from Cardiff University. 
Research Interests 
Developmental Psychology. 
Play and imagination. 
Technology. 
Teaching
BSc Psychology: Y1 Inspirational Research (module lead); Y1 Psychology and the Individual (module lead); and Psychological Skills (systematic literature reviewing skill).