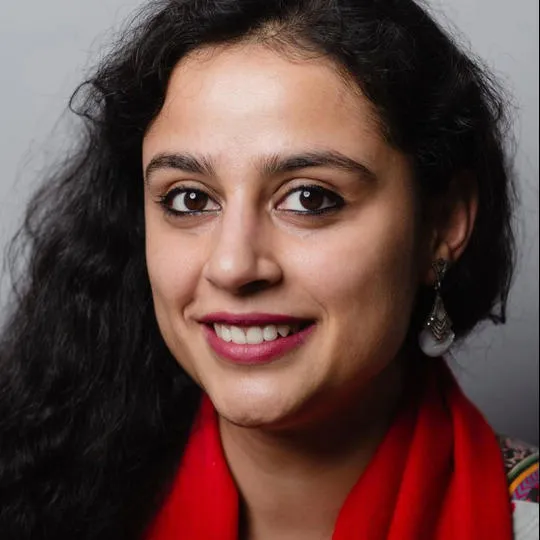 Dr Samah Rafiq
Lecturer in International Relations
Research interests
Conflict
Security
International relations
Contact details
Biography
Samah Rafiq is a Lecturer in International Relations at the Department of War Studies, King's College London. She got her PhD in international politics from the Centre for International Politics, Organization and Disarmament (CIPOD), Jawaharlal Nehru University, India in April 2023. She was a Fox International Fellow at the MacMillan Center for International and Area Studies, Yale University, USA for the academic year 2019-20. She works on bordering and mobility control practices – their evolution across time and space, their securitization via the introduction of algorithmic technologies and risk management, and their increasing privatization.
Her research focuses on bordering and migration control (BMC) practices. In disciplinary terms, it is located within critical security studies, international political sociology and postcolonial scholarship in IR. Her work connects knowledge production on BMC and corresponding practices in international politics with a focus on the risk profiling of migrants to study implications for identity, trust, and claim making in reference to the digitised infrastructures of BMC.
She worked on migration policy in India as a researcher at India's Ministry of External Affairs' migration policy think tank India Centre for Migration in 2018. She has published a research article on bordering practices in postcolonial South Asia and their intersections with identity in the region in Geopolitics. She previously lectured and taught seminars at SOAS, University of London, UK and Jawaharlal Nehru University, India. She is currently working on publishing her PhD research while teaching MA and BA modules at the Department of War Studies.
Research interests
Borders and Migration/Mobility
Critical Security Studies
Postcolonial approaches
Digitisation/Politics of technology
Risk assessment and management
Privatisation and securitisation
Borders and mobility in the context of South Asia
Teaching
7SSWN079 Theories, Concepts and Methods in International Relations
6SSW0007 Critical Security Studies
7SSWN221 International Relations and Contemporary Warfare 1: Theories and Concepts
5SSW2060 Global Politics
She previously taught Risk and Policy Analysis, International Relations of South Asia, General Diplomacy Studies and Politics of Nationalism at SOAS Politics at PG and UG levels (2022-23), and Advanced IR Theory at M Phil level at JNU (2016).
Publications
Peer-reviewed journal article:
Rafiq, Samah. 2022. Linear borders, partition and identity in postcolonial South Asia. Geopolitics. 27 (2): 478-500. DOI: 10.1080/14650045.2020.1757652. (Journal Impact Factor, 2022: 2.9)
Blogs/Op-eds:
Rafiq, Samah. South Asia needs a climate migration policy framework. The Wire. Published online on 10 August 2023.
Rafiq, Samah. The colonial roots of linear borders in South Asia. Security in Context. Published online on 6 August 2023.
Rafiq, Samah. 2020. Open borders: scapegoat in COVID-19 response. Yale Global. Published online on 9 April 2020.
Rafiq, Samah. 2018. Crossing international borders: how mobile is the South Asian individual? NewsClick, published online on 23 March 2018.
Book reviews:
Rafiq, Samah. 2016. Networks of rebellion: explaining insurgent cohesion and collapse. Civil Wars. 18(4):538-541. DOI: 10.1080/13698249.2017.1296807.
Fellowships:
Her research has been funded by the University Grants Commission (UGC) of India (2015-19) and by the Fox Fellowship programme at Yale University (2019-20).