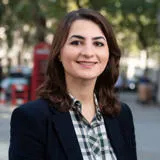 Dr Soheila Malekpour
Lecturer in Finance and Accounting Education
Research interests
Accounting & Financial Management
Contact details
Biography
Soheila Malekpour is a Lecturer in Finance and Accounting Education at King's Business School, joining King's College London in September 2019. Prior to joining King's, she held an academic appointment at the University of Surrey. Soheila's research is in the area of behavioural finance, asset pricing and taxation.
Soheila holds a PhD in Finance from the University of Surrey and an MRes in Accounting and Finance from the University of Glasgow. She is also a Fellow of the Higher Education Academy (FHEA). At King's, she teaches Accounting and Finance for postgraduate students and Introduction to Management Accounting and Taxation for undergraduate students. Her teaching has been nominated for the King's Education Award by her students at King's Business School.
Are you accepting new PhD students?
No