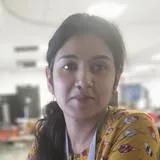 Tooba Faisal
PhD student
Contact details
Biography
Tooba received her BSc in Computer Engineering and MSc in Telecommunications and Networks from Bahria University Karachi (Pakistan). She completed her MRes in Security Science from UCL, and then moved to King's to start her PhD in Telecommunications. She has been working on blockchain since 2016, and has worked for several blockchain start-ups. She is currently King's delegate in ETSI ISG for Permissioned Distributed Ledgers.
Thesis title
End-to-End Implementation of Just-In-Time Billing in Wireless Networks through Smart contracts
Research interests
Blockchain
Smart contracts
Service Level Agreements
Accountability in networks
PhD supervision
Principal supervisor: Professor Mischa Dohler.
Further details
See Tooba's research profile
See Tooba's website