Arts & Culture
Breaking Bread
ABOUT BREAKING BREAD
In May 2020, the Arts & Humanities Research Institute (AHRI) developed a Service opportunity for King's College staff to support Migrateful, a charity that runs cookery classes led by refugees, asylum seekers and migrants struggling to integrate and access employment. The project also involved international design and engineering organisation Arup, whose staff also attended.
The project was initiated to support Migrateful who, due to Covid-19, had been forced to cancel 60 planned cookery classes and subsequently needed to raise over £40,000 to survive. This target has now been achieved and Migrateful are able to continue the important work they do.
WHAT WAS INVOLVED?
Each Thursday evening in May 2020, Migrateful chefs hosted two-hour online cookery classes, teaching cuisine from Pakistan, Syria, Lebanon and Sri Lanka. Alongside teaching recipes, the chefs shared background about the dishes and about their own experiences of migration.
Each class also included time for participants to have informal chats with leading migration researchers from across King's College. Dr Sarah Fine (Department of Philosophy), Professor Anna Reading (Department of Culture, Media & Creative Industries) and Dr Leonie Ansems de Vries (Department of War Studies and Chair of the Migration Research Group) led these discussions along with Dr Ammar Azzouz from Arup.
ART WORKS CREATED IN RESPONSE 
To capture the spirit of the project, artists were invited to participate in each class and to create an art piece based on what they had experienced. Below are the pieces made in response to the cookery class each artist attended.
'Reflection to Migrateful Online Cookery class with Chef Noor'
By Sivan Rubinstein
Artist Sivan Rubinstein created Reflection to Migrateful Online Cookery class with Chef Noor in response to Noor's cookery class that focused on Pakistani dishes such as Dhal & Paratha.
To find out more about artist Sivan Rubinstein and her work please visit her website.
'Lessons from Majeda's Kitchen'
By Tolu Agbelusi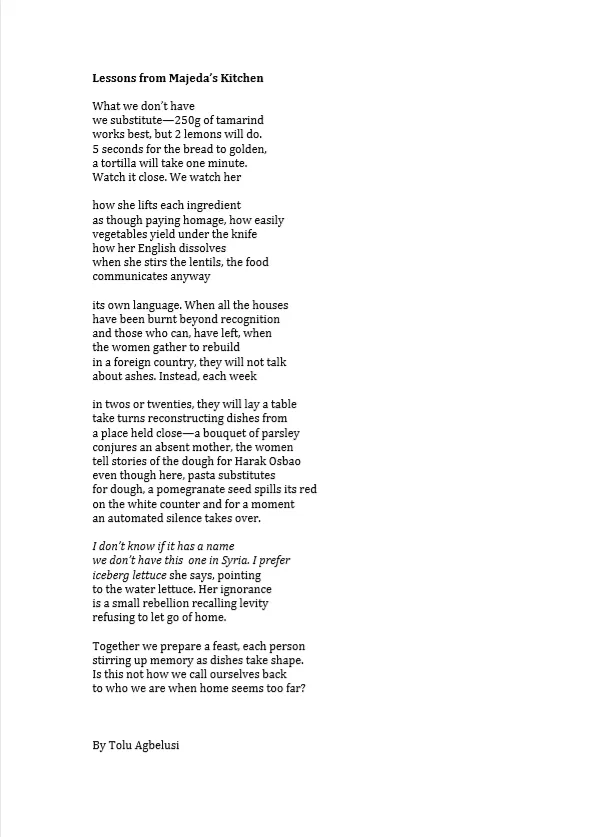 Poet Tolu Agbelusi attended a Syrian cooking class with Chef Majeda which involved learning to make a Fattoush Salad and cook Harrak Isbaao, a lentil and pasta dish with tamarind and pomegranate. Tolu's response to the class is in the form of a poem 'Lessons from Majeda's Kitchen'.
Please click on the 'Activity' tab at the bottom of this page to listen to Tolu performing her poem.
To find out more about Tolu Agbelusi and her work you can visit her website.
'Oriental Still Life'
Original Watercolour Painting
By Anna Virabyan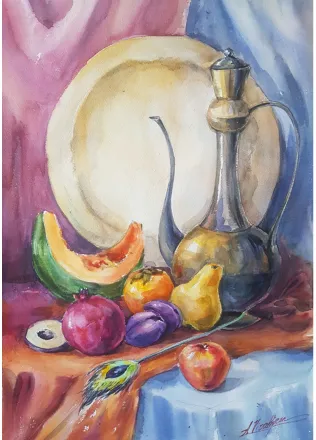 Artist Anna Virabyan attended Chef Ahmed's Lebanese cookery class and was inspired by the bold colours, different cultures and communication between the group and created watercolour 'Oriental Still Life' in response to her experience.
FRAGMENTS
or Four Chapters For Possible Futures
Written and performed by Xavier de Sousa
Camera and editing by Rowan Briscoe
Produced by Foreign Actions Productions
Artist Xavier de Sousa's piece 'FRAGMENTS' was produced in response to a Sri Lankan cookery class led by Chef Nafa. Participants were taught how to make kahabath, a coconut milk rice with turmeric, and soya devil.
You can explore more of artist Xavier de Sousa's work by visiting his website.
EVALUATION
The classes were a success with 48 King's staff members and 20 Arup staff members taking part. Due to this success, the AHRI developed the Kneading Knowledge project, again in collaboration with Migrateful.
Testimonials from participants
"It was lovely to be taught recipes which are important to the chef and to hear her stories of food and life in Syria and in London during the cooking class. It made it more than just food, but about experience, memories and building connection"
"This was a lovely way to come together through food, even though we are apart. It made my week!"
"I really liked how the class fostered a deeper connection to cooking and food"
"Loved the whole experience! The food was AMAZING. Probably one of the best things I've ever cooked, and I will surely make it again and again and again"
You can find out more about this project by reading this King's Service article.
Project status: Completed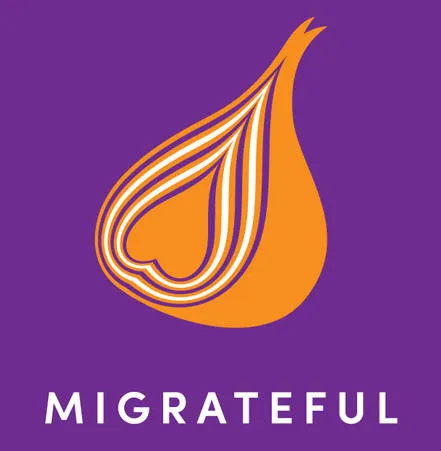 Funding
Funding Body: King's College London and Affiliates
Period: May 2020 - May 2020
Contact us
King's College London
Strand Campus
London
WC2R 2LS