Health
Clozapine in Early Psychosis - CLEAR
Aims
CLEAR (CLozapine in EARly Psychosis) is investigating the effectiveness of clozapine versus other antipsychotics (known here as treatment as usual or TAU) in young people under the age of 25.
Research on antipsychotics in young people and children shows that antipsychotics do help children and young people with psychosis. However, there is very limited research focussed on clozapine in young people, so it is not clear whether or not clozapine should be recommended for people under 25.
For these reasons, the National Institute of Health Research (NIHR) has commissioned this research to study clozapine as a treatment for psychosis in people under 25. The results will help the National Institute for Health and Care Excellence (NICE) decide which treatment they should recommend, so it should help other people to receive the best treatment in the future. 
Methods
We plan to recruit 260 participants across England and Wales. Inclusion criteria includes young people with schizophrenia or a related disorder, aged between 12 to 24 years who meet NICE criteria for treatment resistance. A computer will randomly decide whether participants take clozapine or another antipsychotic (decided by the treating doctor) for 12 weeks. A researcher will meet the participant 4 times, firstly at a baseline visit prior to randomisation and treatment commencing and then a further 3 times to complete some questionnaires and clinical assessments.
After 12 weeks of treatment, participants can discuss with their clinical team whether they want to continue the treatment allocated in the trial or change it to something else. A further 2 follow ups will be organised between the researcher and the participant at 6 months and 12 months.
At some recruitment sites (please see 'Recruitment sites' for participating Trusts) an additional sub-study will also be offered. This add-on study investigates the biological changes that occur in the brain and blood when treated with clozapine or other antipsychotics and how they relate to symptom improvement. This biomarker study is also funded by the NIHR. Participation will involve having a magnetic resonance imaging (MRI) brain scan and providing a blood sample, once at baseline and again at the end of the 12 week treatment period. An MRI is used to take pictures of the brain and the participant lies down still in the machine, for up to 75 minutes, to enable this.
Participants will be compensated for their time and travel expenses.
Trials Design
CLEAR aims to evaluate the clinical and cost effectiveness of clozapine compared to standard antipsychotic treatment in children and young adults (12-24 years) with treatment resistant psychosis.
Full eligibility criteria and current Protocol available here
Project status: Ongoing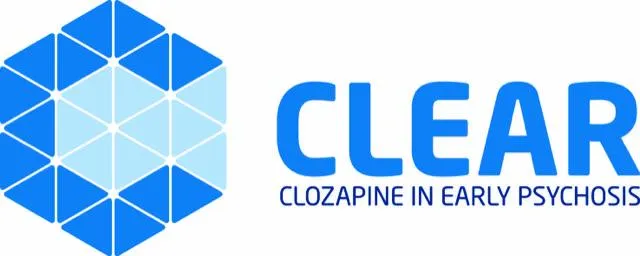 Keywords
PSYCHOSIS