Health
Longitudinal European Autism Project (LEAP)
The EU-AIMS Longitudinal European Autism Project (LEAP) aims to identify risk factors that contribute to differences in brain development, difficulties in social behaviour and other core symptoms of autism spectrum disorders (ASD). 
By understanding how the brain develops, we can improve our ability to detect if something is out of the ordinary then tailor interventions to individuals with different developmental conditions. For instance, autism spectrum disorder (ASD) affects about 1 in 100 people, but there are few effective treatments and interventions to alleviate its symptoms. Previous research has shown that many people with learning difficulties also have autistic-like symptoms. Nevertheless, current research often does not include individuals with learning difficulties because of difficulties adapting the testing materials. 
To gain full understanding of how the brain develops through time across a wide range of individuals, it is crucial to include all ages and a range of abilities. Our aim is to include three different groups of people. The first group will consist of people who have been diagnosed with any condition co-presenting mild learning difficulties from the ages of 12 to 30. The second will include people with ASD aged between 6 and 30, and the third will include typically developing people aged between 6 and 30 years. This will help us to gain knowledge on brain development which may help develop treatments helping alleviate core symptoms of autism across different patient groups.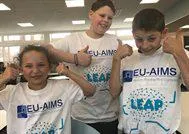 Project status: Ongoing