Society
No space like home: the geography of micro-apartments in London
No space like home is a 10-month project which examines a variety of factors – austerity, lack of affordable land, in-migration – are encouraging a move towards increasingly compact, high-density, vertical living in London, with much new-build in the form of 'micro-apartments' designed to appeal to young professionals.
Permitted development rights (PDRs) allow development of flats in former office buildings without planning permission, and this is thought to be a major reason for the rise of small homes smaller than the stipulated minimum space requirement. The rise of 'micro-apartments' and other forms of small housing in London is then cause for concern. Yet despite a rapidly-growing international literature on the production and consumption of micro-apartments, there has been little written on the growth, distribution, and impacts of micro-apartments and pocket homes in London.
Project Team Members
Catrin Preston (King's Undergraduate Research Fellow)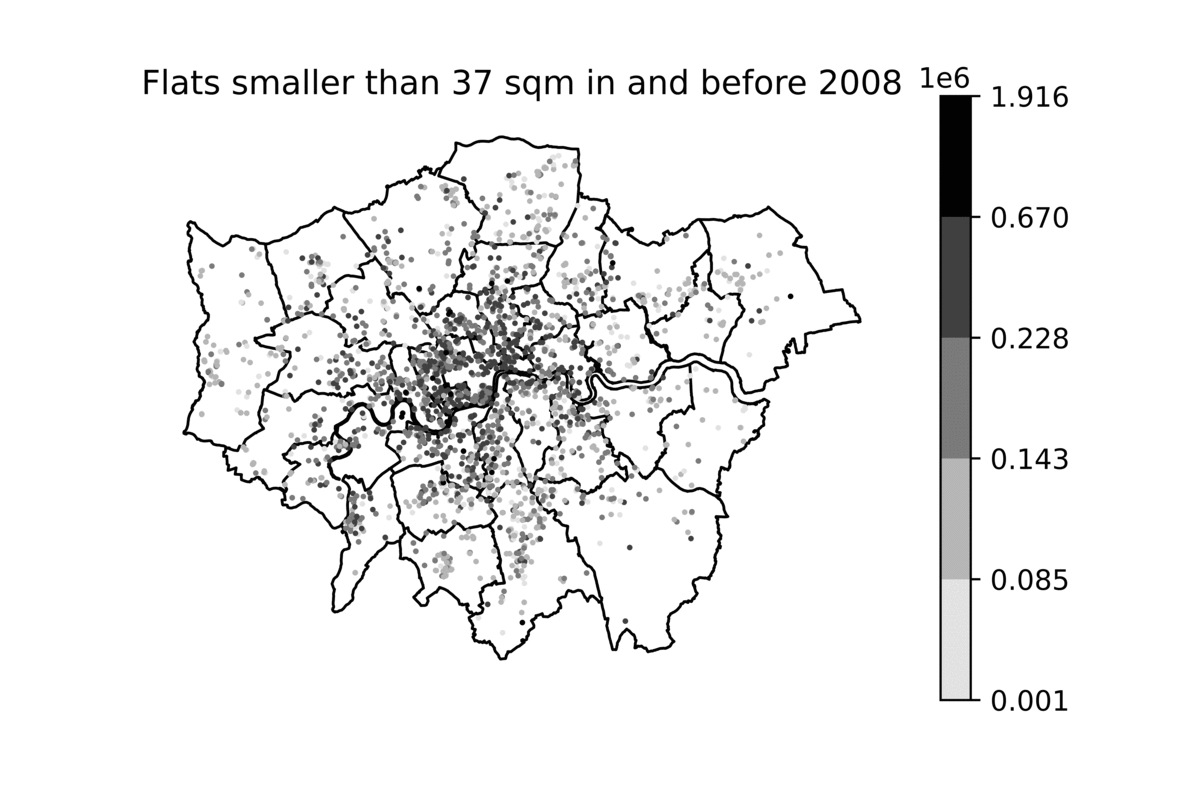 Aims
To Investigate the geography of micro-homes and apartments (<37m2) in London, seeking to understand their location, growth and affordability.
To scope the potential of Energy Performance Certificates (EPC) for analysing size trends in London housing markets, combining with Price Paid Data (PPD) on affordability.
Methods
The UK provides open access to EPC Data (18 million entries) and Price Paid Data (25 million entries). The challenge was that both data sets record addresses in different formats. To find an overlap between the two data sets all addresses had to be compared with each other. The processes provided just over 2.8 million data points for London, allowing us to explore trends over time and space.
Summary of Findings
1 in 20 homes in London is a micro-home or apartment providing less than 37 m2 in living space - the minimum recommended size for a one-bedroom home in Britain.
Most micro-homes are currently in the Inner London Boroughs, while building activity of small housing is equal in Inner and Outer London.
Some, but not all, micro-apartment developments are in converted office blocks (there is actually no significant correlation between permitted development rights and the location of micro-apartments).
Annually, between 1,000-2,000 new micro-apartments (c. 3% of all new homes) reach the market in London.
Micro-apartments display the highest price-per-square metre compared to larger counterparts. The affordability of micro-homes remains contested as new-build apartments come at a significant price premium compared to more dated flats.
Impact
COVID-19 has shed more light on the problems of small homes in London. Those living in lockdown have struggled with physical and mental health when living in small homes with little opportunity for combining living, working and leisure space. This has meant that at the same time there is pressure to build more homes, we need to ensure these are decent homes. Future work will be making recommendations for policy makers based on further assessment of the negative impacts of small homes for their occupiers.
Project status: Ongoing
Principal Investigator
Funding
Funding Body: King's College London and Affiliates
Amount: £8,917 (SSPP Faculty Fund)
Period: October 2019 - August 2020
Keywords
MICRO-APARTMENTS
HOMES
LONDON
AFFORDABILITY
GROWTH