Arts & Culture
ParaPride: Activist-in-residence scheme
ABOUT THE ACTIVIST-IN-RESIDENCE SCHEME
In 2019, the Arts & Humanities Research Institute funded its Queer@King's Research Centre to trial an activist-in-residence scheme in conjunction with ParaPride, the UK's first official charity focusing on the connection between the disabled and LGBT+ communities. Work on this scheme is continuing into 2021.
WHAT ARE THE AIMS OF THE SCHEME?
The scheme provides LGBTQ+ activists from the Greater London area access to King's resources, infrastructure and administrative support, alongside an activism budget of £1,500, so that they may realise ideas for community projects and activist work.
Queer@King's has long been a place that brings together academic inquiry, activist work and artistic exploration in dialogue with, and in the service of, LGBTQ+ communities. The activist-in-residence scheme enables Queer@King's to strengthen its ties with local LGBTQ+ activists and to fund projects that:
Experiment with new or unusual approaches to activist work
Benefit causes and groups that may otherwise struggle to receive attention or are under-served / under-represented in mainstream LGBTQ+ activism
Make the most of King's resources, support, context and infrastructure to amplify activism work
Learning from this pilot scheme will be shared with other AHRI research centres and more widely, to build capacity for activist-in-residence schemes elsewhere in the College.
ACHIEVEMENTS TO DATE
ParaPride Stratford Circus Arts Centre Takeover
21st February 2020
Co-funded by Queer@King's, the iconic Stratford Circus Arts Centre Takeover was ParaPride's first official fundraising event as a registered charity. ParaPride made history during LGBT History Month by bringing to the stage the largest showcase of disabled and queer talent ever seen in the UK, changing the fabric of social opportunity for disabled and queer people, nationally. Ticket sales from this event went towards inclusive activities produced by ParaPride throughout 2020.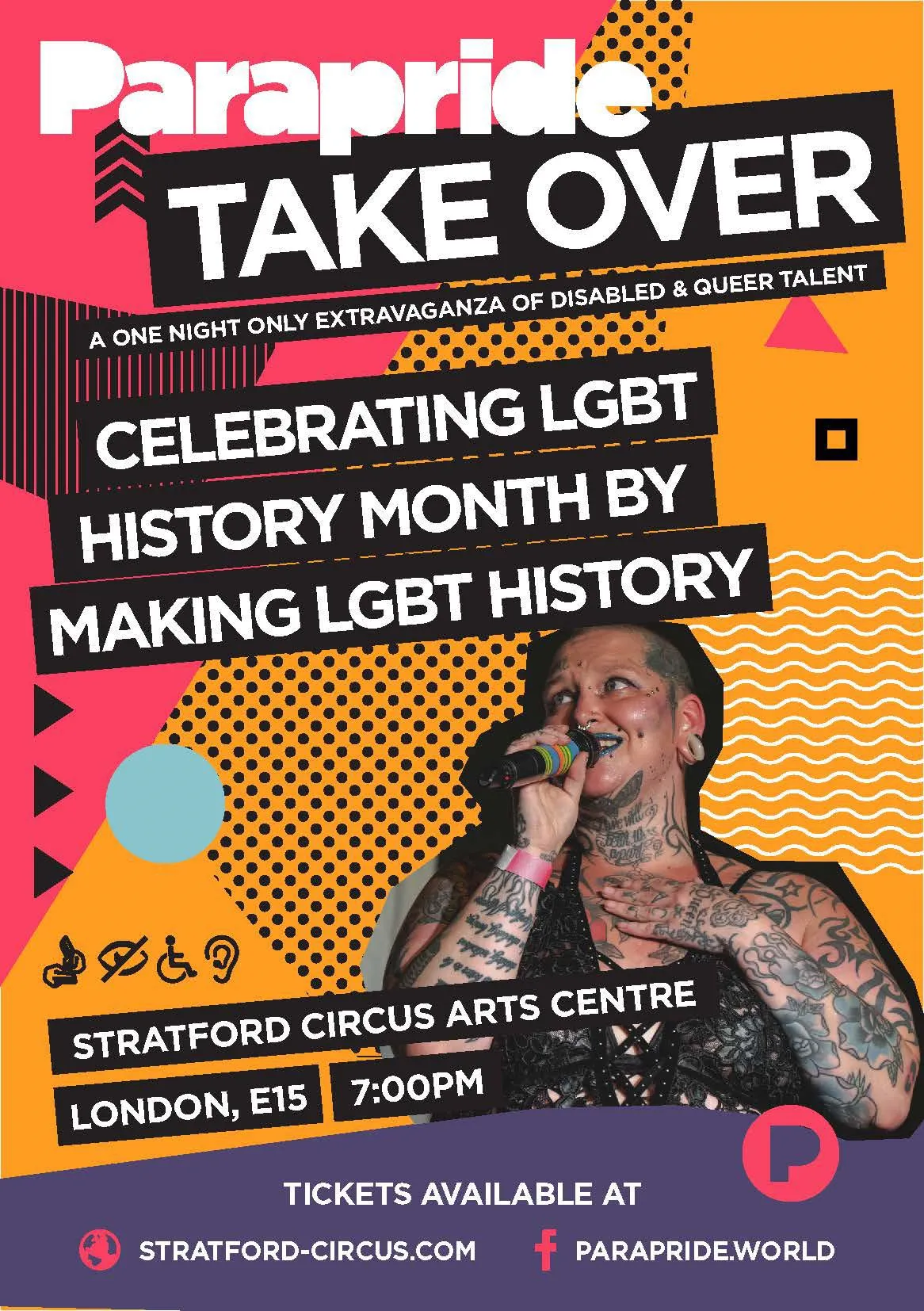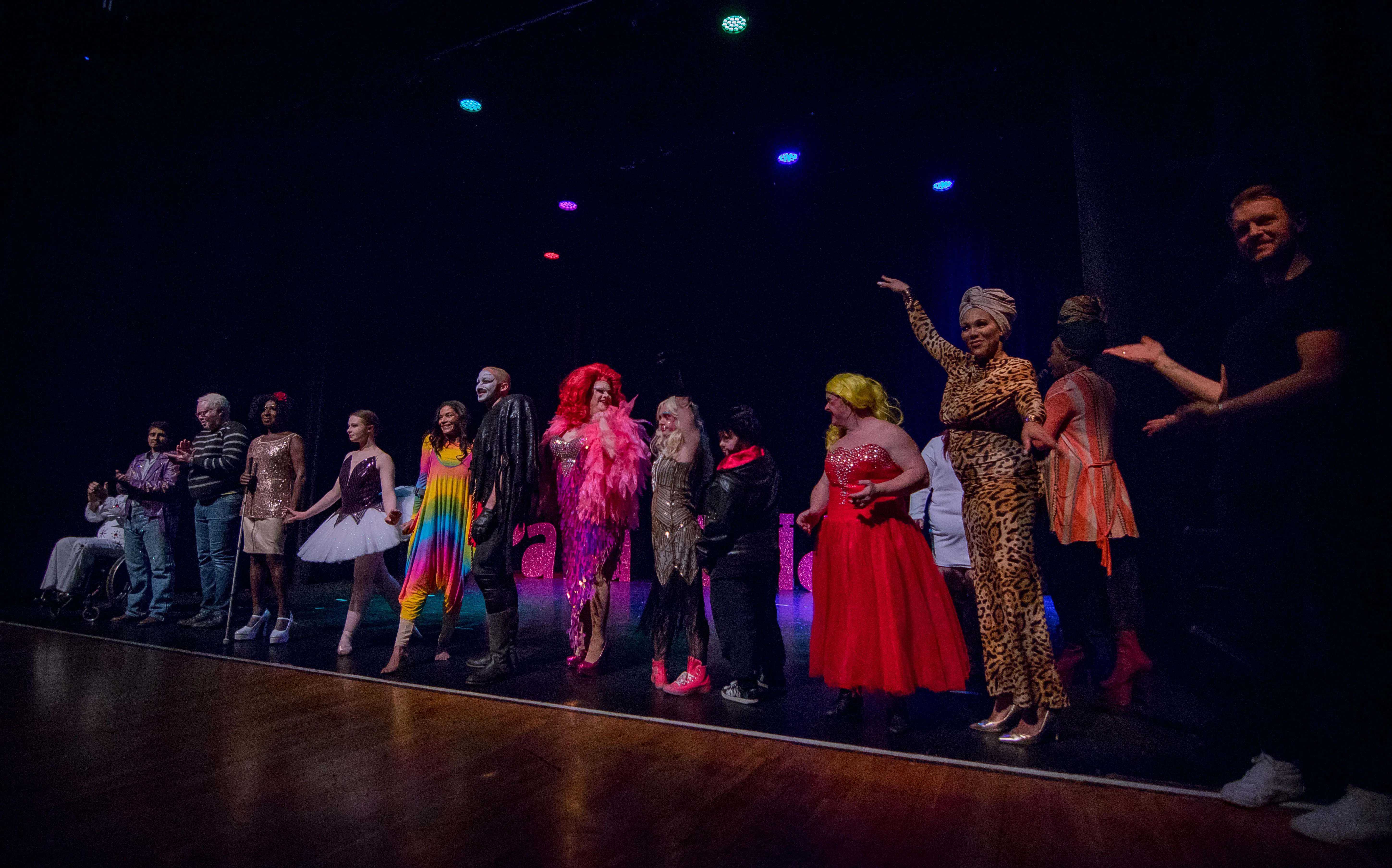 ParaPride Digitals: Our Stories
May 2020
Due to Covid-19, ParaPride had to postpone its live events so instead, came up with an online project to mark its first anniversary; a series of 3 events in May 2020, called ParaPride Digitals: Our Stories. These events explored in more depth the intersectionality of being LGBTQ+ and diverse / disabled and involved panellists who have contributed greatly to ParaPride's success (including Queer@King's very own Dr Clara Bradbury-Rance). Stories of empowerment and authenticity were shared, alongside discussions of activism and reflections on the importance of supporting more marginalised LGBTQ+communities. Each episode focused on a different category / topic: Physical disabilities / diversities; Sensory diversities / impairments; and Mental Health.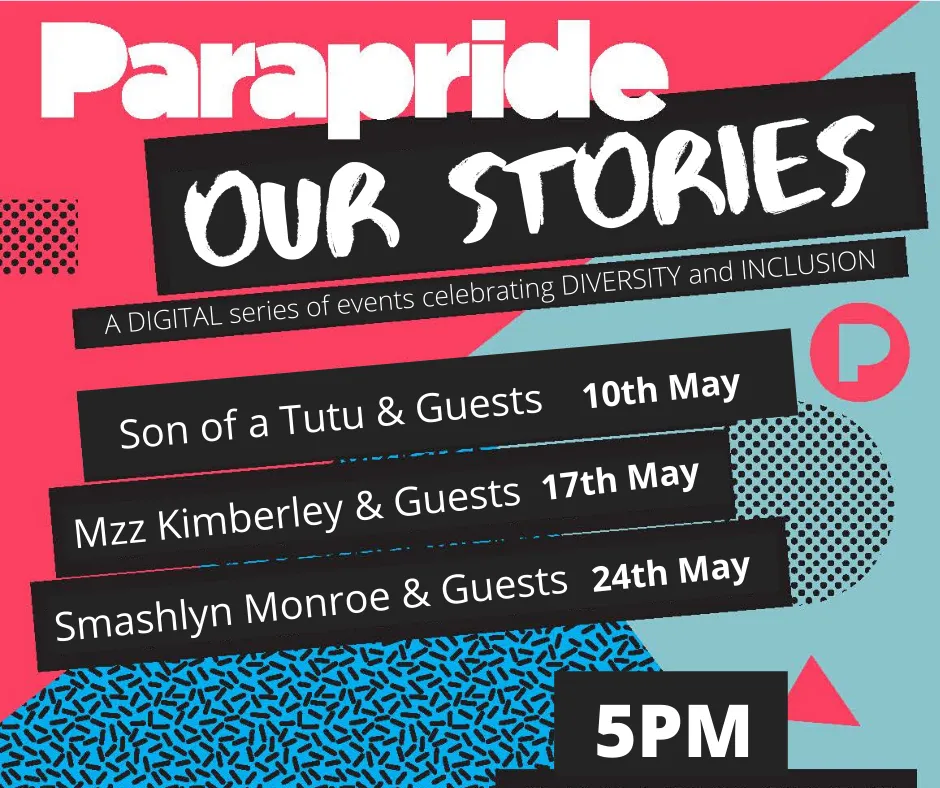 Pride Inside
Covid-19 forced lots of Pride events to be cancelled but it didn't stop ParaPride celebrating LGBTI+ rights. Amnesty International, ParaPride, UK Black Pride, Gendered Intelligence and Stonewall joined forces to bring celebrations online with PRIDE INSIDE which ran from Sunday 28 June – Friday 10 July 2020.
ParaPride hosted the weekend of 4 - 5 July with a packed online series of gigs, comedy shows, panel discussions, and arts-based events. Once again, Queer@King's were on-hand to support through promoting the events and joining celebrations.
Queer@King's creative competition in collaboration with ParaPride
From Disability Month (November 2019) to LGBT History Month (February 2020), Queer@King's held a creative competition open to all current KCL students interested in the intersection of queer politics and activism in the academy. They invited students to find a creative form in which to respond to the theme: "Dis-labelled: Inclusion in Society".
The creative contribution could be anything: an acoustic piece, a video or short film, a collage, a poem, a creative piece of prose. Poetry took the crown, with the winning piece 'The Persistence of Memory', a poem by Priyanka Moorjani, and the runner up, also a poem, 'GRADE', by Joshua Klarica.
'The Persistence of Memory'  by Priyanka Moorjani
'GRADE'  by Joshua Klarica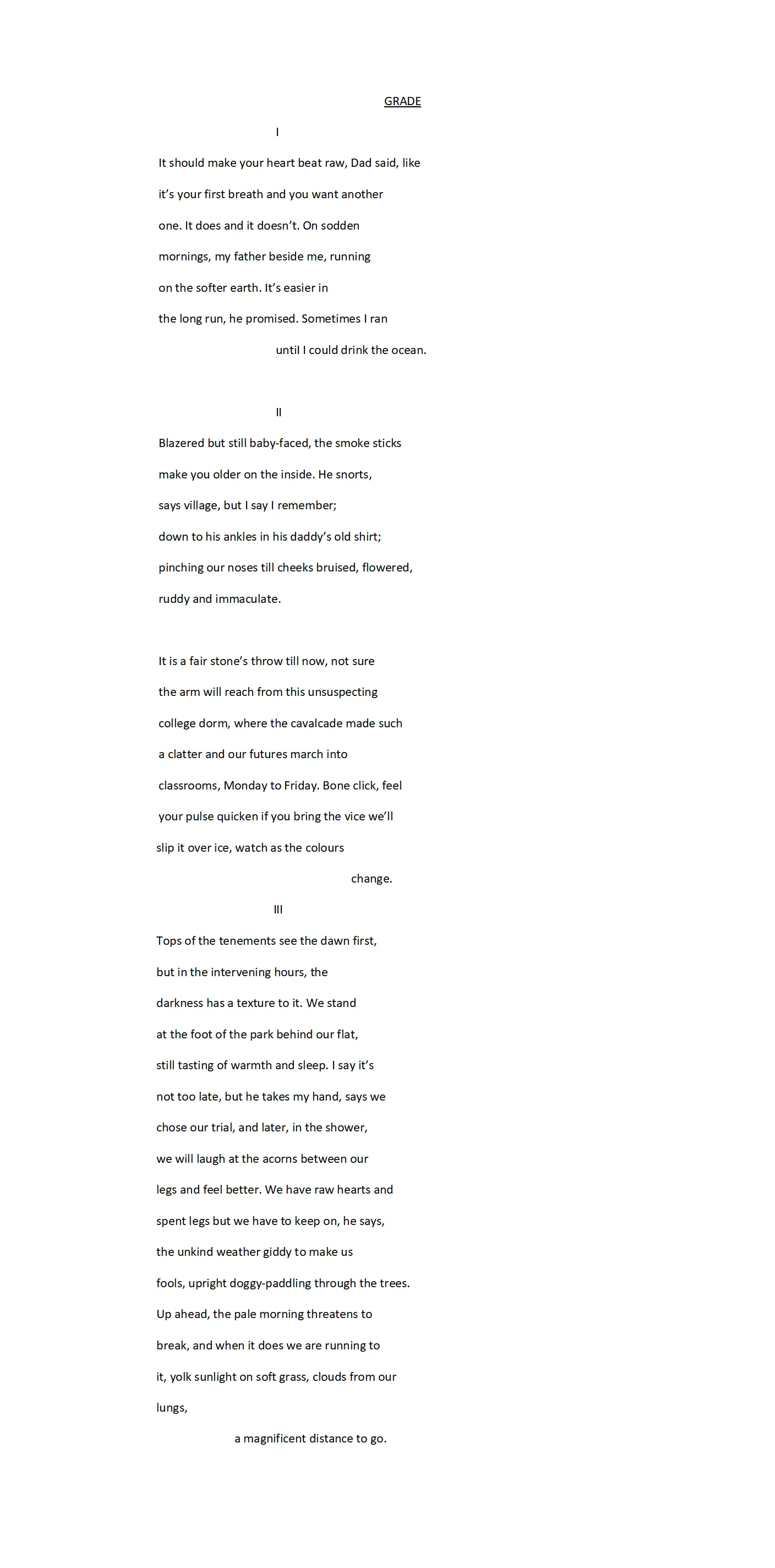 Project status: Completed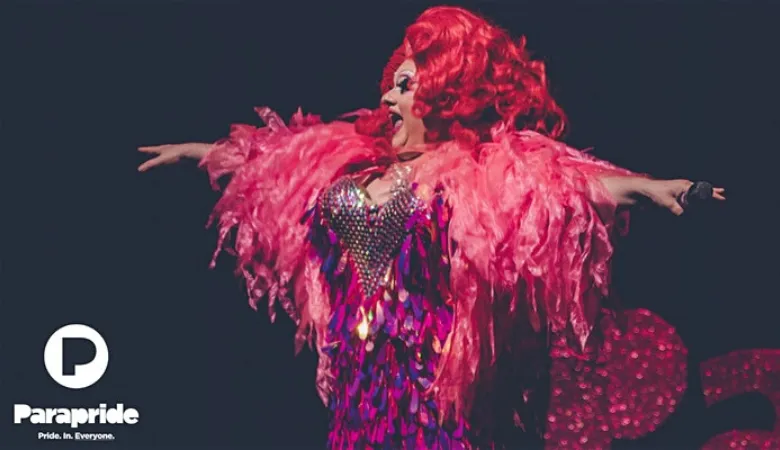 Principal Investigator
Project websites
Funding
Funding Body: King's College London and Affiliates
Period: October 2019 - July 2021
Keywords
ACTIVISM
DISABILITY
QUEER
QUEER@KING'S