Staff Sustainability Champions
Our network of Sustainability Champions work on campus and in our residences to make King's a more sustainable place.
They focus maximising the positive – while reducing the negative – social and environmental impacts of our operations and activities.
Throughout the year, King's Sustainability Champions deliver projects and actions mapped against the 17 UN Sustainable Development Goals (SDGs). Teams work towards either a Bronze, Silver or Gold Award across three broad areas – offices, laboratories (both teaching and research labs) and halls of residences.  
The programme empowers staff to make positive and sustainable changes to their work environments, while providing staff development opportunities and wellbeing benefits.
It is guided by the SOS-UK Green Impact and Lab Efficiency Assessment Framework (LEAF).
Timeline and time requirement  
October- November

Sustainability Champions launch

An in-person/hybrid launch that explains the workbook criteria for the year ahead, key sustainability updates, and networking and activities to get to know other Champions in the programme

November-April 

Forming a team

Completing criteria of either Bronze, Silver or Gold
Updating evidence for criteria of previously attained awards
Attending group workshops and events
Communicating with King's Climate & Sustainability team about progress and questions
Submitting your completed online workbook (Green Impact workbook for office and residence teams; LEAF for lab teams)

May-June 

Sustainability audits

Office and residence team audits take place on one day by trained students, lab teams conduct peer audits and receive training on how to carry these out by King's Climate & Sustainability team

July 

Sustainability Awards

All Sustainability Champion teams receive an award, certificate and badge as thank you and in recognition for taking part in the programme

We estimate being a Sustainability Champion will take no longer than 30 minutes of your time a week. The workbook criteria is designed so you can fit it around your working day and you may even find your team is already undertaking some of the actions.  
Benefits of being a Sustainability Champion
Alongside helping King's to become a more sustainable place, being a Sustainability Champion is a great professional development opportunity.
Offering resources and workshops to improve your knowledge on sustainability throughout the year, you'll also learn how to build sustainable decision-making into your role at King's.
The programme provides an opportunity to meet staff in different departments and work together to make sustainable changes. You and your team will be invited to the Sustainability Awards ceremony in July to celebrate your progress and receive recognition for your work.
Throughout the year, King's Climate & Sustainability team are on hand to answer any questions and provide support. 
Sustainability Champion stories
Sustainability Awards
2023 TBC
2022
61 Sustainability Champions teams were awarded:
1 Working Towards Sustainability Dozen
13 Sustainability Dozen
7 Bronze
1 Working Towards Silver
5 Silver
34 Gold
Gold
Offices
Entrepreneurship Institute
Estates and Facilities, Lavington Street
Geography
Institute of Psychiatry, Psychology & Neuroscience
King's Sport
School of Global Affairs
King's Service Centre
Social Mobility & Widening Participation
Estates and Facilities, Strand
The Dickson Poon School of Law
Wolfson House Residence
Labs
Analytical, Environmental and Forensic Sciences – DNA analysis
Analytical, Environmental and Forensic Sciences – Drug Control Centre
Analytical, Environmental and Forensic Sciences – Genetic and Environmental Toxicology
Analytical, Environmental and Forensic Sciences – King's Forensics
Analytical, Environmental and Forensic Sciences – Lab 4.134
Basic and Clinical Neuroscience
Cardiovascular Research
Centre for Gene Therapy & Regenerative Medicine
Chemistry Research
Chemistry Teaching
Diabetes Research Group
Dissecting Room
Division of Women & Children's Health (St Thomas')
Geography
Guy's Multi Disciplinary Labs
Innovation Hub, Guy's Cancer Centre
James Black Centre: Cardiovascular Sciences
Nutrition Sciences
School of Immunology & Microbial Sciences
SGDP Centre, Molecular Genetics Lab
Twin Research (The Rayne Institute)
Vascular Biology & Inflammation
Wolfson Centre for Age-related Diseases
Silver
Offices
Arts & Humanities Cluster Offices (Working Towards)
Vascular Biology & Inflammation
Labs
Centre for Developmental Neurobiology
Engineering
Institute of Hepatology
Bronze
Offices
James Black Centre Offices
Research Management and Innovation Directorate
Labs
Biological Services
Centre for Inflammation Biology and Cancer Immunology
Division of Women & Children's Health (Hodgkin)
Human & Applied Physiological Sciences
Physics Research Labs (Nanophotonics Suite)
Randall Division of Cell and Molecular Biophysics
Sustainability Dozen
Offices
Clinical Pharmacology
Deans Office
Denmark Hill Estates and Facilities
Global Mobility Office (Working Towards)
Guys & Waterloo Chaplaincies
International Development
King's Online/KPED
Libraries & Collections, Franklin-Wilkins Library
Libraries & Collections, IoPPN Library
Libraries & Collections, Maughan Library
Libraries & Collections, New Hunts' House Library
Libraries & Collections, St Thomas' House Library
Libraries & Collections, Weston Education Centre Library
Sustainability Champion - Special Awards
Dola Akanmu, staff champion in the Vascular Biology & Inflammation labs and office team. Dola has been the sole champion for these two teams and has made significant changes, including the development of an EDI plan for her department.
Glyn Jones, staff champion in the Dickson Poon School of Law. Glyn won this award due his delivery of many 'no dig' presentations about his allotment, sharing his learnings with students and staff at King's.
Kautuk Chaddha, staff champion in the Strand Operations team. Kautuk has engaged across many Sustainability events this year, including the sustainability careers festival. He continues to champion sustainability and inspiring others.
IoPPN offices, won an 'engagement for sustainability' award for their stitch and pitch series of events which they ran this year.
Special Awards
84 students who completed the KEATS Sustainability & Climate Module (between March and June)
Six students (Anita Baratti; Saniya Mehmood; Zaynab Hussain; Yichan Gao; Juan Pablo; Valderrama Echavarría; Kshitija Mishra) who mapped over 200 modules during the Sustainable Development Goals Curriculum Mapping project
Six students and staff (Yilin Lei; Euan Casey; Vaibhav Mehta; Fatima Wang; Mel Davies; Kindness Ezekwe) from King's Climate Action Network
Five students and alumni (Sigrid Leivdottir; Abigail Oyedele; Kathleen Williamson; Daniel Jonusas; Elsa Nativelle) who have co-hosted and co-produced the Spotlight on Sustainability podcast
School of Global Affairs communications team (Julia Stepowska and Grace Harley) for their support on sustainability and climate-focused communications
Damely Akizhanova for their work on the Sustainability Residence Committees and the Culture-Climate Lab workshop
The King's Procurement Team for their work on introducing the new Sustainability Supply Chain Code of Conduct
King's Sustainability achievements this year include:
King's has reduced its carbon emissions by more than half (51%) since our 2005/06 baseline
King's ranked in top 5 UK universities for environmental and social impact in the Times Higher Education (THE) Impact Rankings, as well as second in the UK in the People & Planet League table this year.
500+ people taking part in the Sustainability Champions programme and 350+ members of the Climate Action Network (CAN)
Between September 2021 and July 2022, more than 1,400 attendees came together across 87 events and training opportunities run by the King's Sustainability Team
The development of the KEATS Sustainability and Climate module, which had over 600 students and staff enroll and over 180 complete the full module and receive sustainability awards
Over 1,000 modules mapped against the UN Sustainable Development Goals, with the help of over 60 trained students and staff
All King's suppliers must now sign up to the Sustainability Supply Chain Code of Conduct. This is a huge step to reducing our carbon emissions, as our supply chain is the biggest source of carbon (scope 3)
King's Food and King's Venues choice menus are now 70% vegetation and vegan
King's has recently been awarded the highest rating of three stars by the Sustainable Restaurant Association (SRA) rating, as well as being re-accredited as a Fairtrade university.
More about King's Climate & Sustainability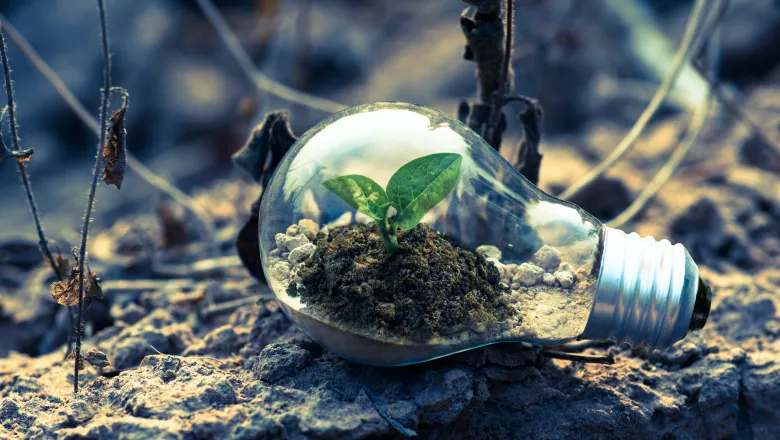 Enabling societal transition to environmental sustainability is a...
Learn more about how you can join in and take action
Ways you can be more sustainable within and beyond King's