Expanding the scope of biocatalysis for sustainable chemical production
Please note: this event has passed
---
This month we are joined by Alex Brogan, Lecturer in Chemistry at King's College London, who will present on recent work from his lab on using ionic liquids to enhance biocatalysis. Specifically, he will highlight how his lab are developing new methodologies for enzymatic plastic degradation as well as advanced biofuel production.
Ionic liquids are highly versatile solvents with tuneable properties and favourable properties such as high thermal stability, negligible vapour pressure, and wide electrochemical windows when compared to conventional solvents. Here, I will show how we have incorporated ionic liquids into the development of enzyme-based biomaterials with significantly enhanced stabilities and activities for use in biocatalysis.
Surface modification of proteins, to yield solvent-free liquid proteins, has been demonstrated as a robust method for synthesizing protein-rich biofluids that are devoid of any solvent. This new class of biomaterial has been shown to be a promising new technology where enzymes have been stabilized in non-aqueous environments. Using a variety of spectroscopic and scattering techniques, these novel biomaterials have been shown to allow for extreme enzyme thermal stability, stability against aggregation, retained dynamics, and enhanced function. However, their utility is restricted by extremely high viscosities. Fortunately, this can be overcome using ionic liquids, as these surface modified proteins are soluble in both hydrophilic and hydrophobic ionic liquids. Once solubilized, biomolecule architecture is maintained in the non-aqueous environment with improved thermal stability as compared to aqueous solutions. Through surface modification of the enzyme glucosidase we were able to demonstrate that once solubilized in ionic liquids, the enzyme has significantly improved activity at 120 °C, and otherwise unseen activity towards water insoluble cellulose. Importantly, this demonstrated that it was possible to reduce the number of enzymes require for cellulose degradation from 3 to 1.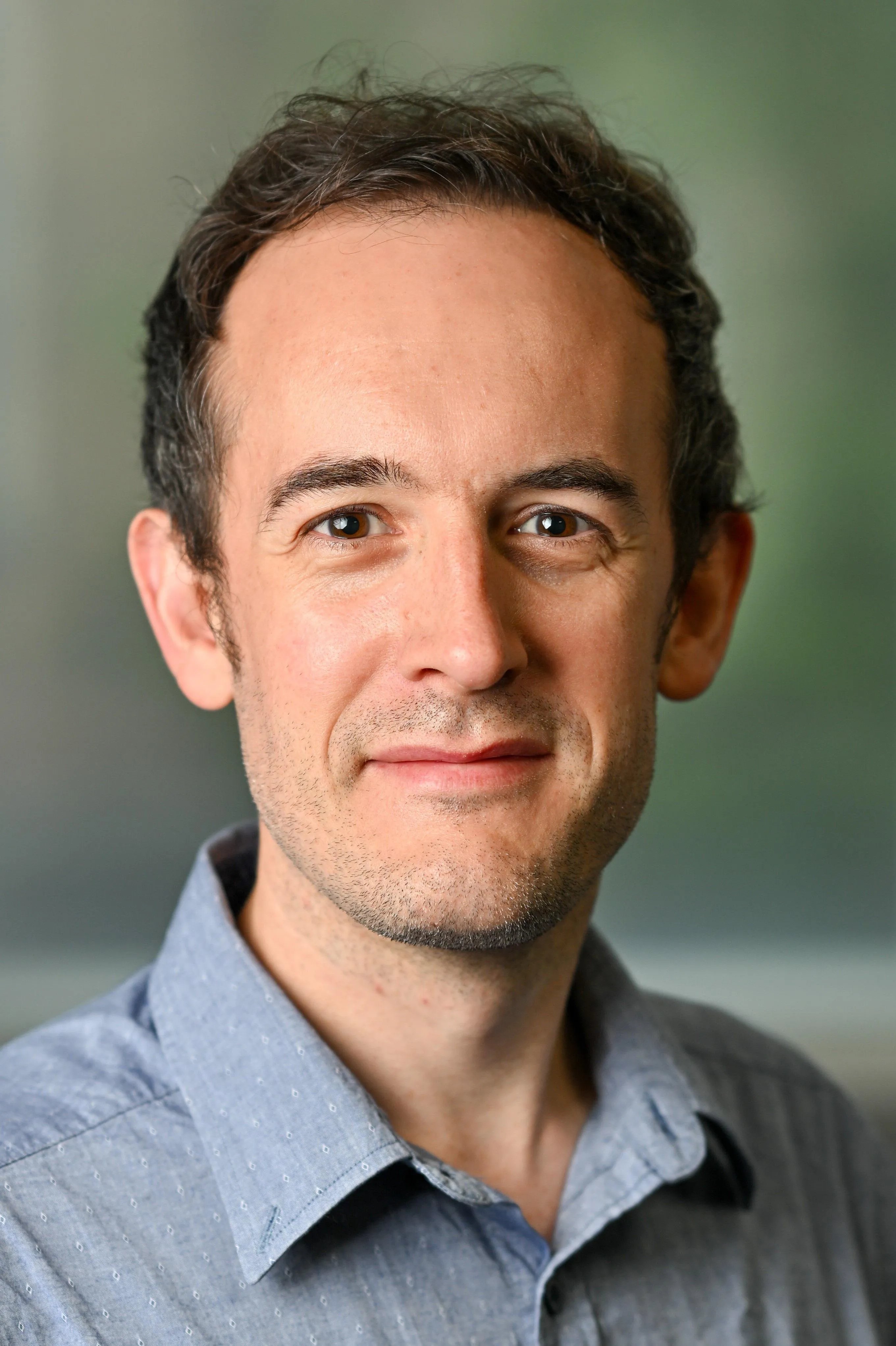 Speaker bio
Alex Brogan obtained both his MSci (2008) and PhD (2012) from the Department of Chemistry, University of Bristol. After a short postdoc there, he moved to the Department of Chemical Engineering, Imperial College London, where he was a Research Associate until 2019. During this time, he was also a Visiting Researcher, at the Koch Institute for Integrative Cancer Research, Massachusetts Institute of Technology (2017 – 2018). In 2019, Alex moved to the Department of Chemistry, King's College London, to establish his group as a Lecturer (Assistant Professor) in Chemistry. His research is broadly on the development of protein-based biomaterials with high stabilities against temperature, aggregation, and non-aqueous environments. Particularly, his research focuses on combining these biomaterials with ionic liquids to provide new opportunities for sustainable biocatalysis and soft-material design.
This is an in-person event with tea/coffee and cake served prior to the beginning of the seminar.
If you have any questions please don't hesitate to contact the Net Zero Centre team at netzero@kcl.ac.uk.
The Net Zero Interdisciplinary Seminar Series is the flagship seminar series for King's College London's Net Zero Centre, providing a platform for cross-pollination between academia, industry and government to develop novel research projects to achieve Net Zero.
Every month, we host a speaker to discuss a new research idea and seek contributions from audience members on a proposed challenge. A half-hour talk is followed by a discussion, and we encourage speakers to engage with colleagues on research related to our four priority areas, decarbonisation, sustainable manufacturing, equitable resource allocation and resilient infrastructure.
About us
The Net Zero Centre at King's is dedicated to addressing the challenges of decarbonising our society and reducing the environmental impact of our manufacturing, infrastructure, and cities. It serves as hub for scientific, technological and engineering research geared towards this challenge.
Based in the Faculty of Natural, Mathematical and Engineering Sciences (NMES), the Centre works across the boundaries of disciplines at King's from geography and business to law and social science to deliver solutions for sustainable development. The Centre fosters the next generation of King's change-makers by educating scientists and engineers on the holistic context of these challenges and developing technologically aware social scientists, lawyers, and policy makers.
Photography and videography
There might be photography and videography on the day. If you do not wish to appear in any photographs or videos, please approach our registration team on the day of the event or email netzero@kcl.ac.uk before the event. Photographs and videos taken may feature in our publications or on the King's website and social media channels. All personal data will be processed in accordance with King's privacy policy available on request or at www.kcl.ac.uk/terms/privacy.
Privacy notice
We collect and process your personal information to help us manage and run the event. In accordance with the King's College London Data Retention Schedule, we will keep your information until the completion of the event. To find out more about how the university deals with your personal information, including your rights, please see the university's core privacy notice. Your personal information will be transferred to the United States via Eventbrite. Please read the article where you can find out more on how Eventbrite protects your data.
At this event
Event details
K-1.56 (Level -1)
King's Building
Strand Campus, Strand, London, WC2R 2LS