20 November 2019
Academics from UK & Italy debate the security implications of Brexit at Inaugural Conference
Inaugural ITSS conference on Brexit held in Verona
Dr Zeno Leoni & Dr Michele Groppi
On 25th October Dr Michele Groppi and Dr Zeno Leoni of the Defence Studies Department held the first ITSS conference at the University of Verona. The conference is intended to create post-Brexit cultural bridges between Italy and the UK by inviting the best academic minds British and Italian universities can offer, providing the Italian public with a unique opportunity for debate and dialogue.
Brexit has been and continues to be a source of uncertainty. What implications could the UK's leaving of the EU have on millions of British and European citizens in terms of security, labour, legal accords, energy, social policy, and defence?
Given solid economic, artistic, and tourist ties between Italy and Britain, not to mention the presence of 600,000 Italians in London, Verona was the perfect place to hold this international event on Brexit's, elucidating its reasons and implications.
The event consisted of panels including guests from various international academic institutions, the professional sector, government and the media to conduct live and interactive debates covering the topics 'Reasons to Leave', 'Reasons to Remain', 'The Italian Vision' and 'The cultural and institutional debate'. 
The International Team for the Study of Security (ITSS) is a cultural organisation, linked to the Defence Studies Department founded by Dr Michele Groppi (President) and Dr Zeno Leoni (Executive Director) which is dedicated to the study of every facet of international security (from terrorism to energy security, from cyber warfare to climate change, from the militarisation of space to migration flows).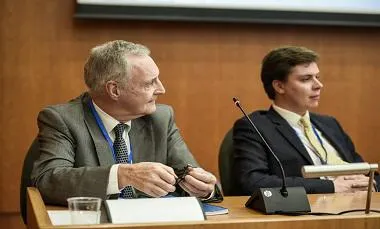 In this story