19 June 2023
Dietary restrictions could reduce gum disease
New research from King's College London has emerged that shows calorie restriction (500-1300 calories per day) could be used to reduce gum disease.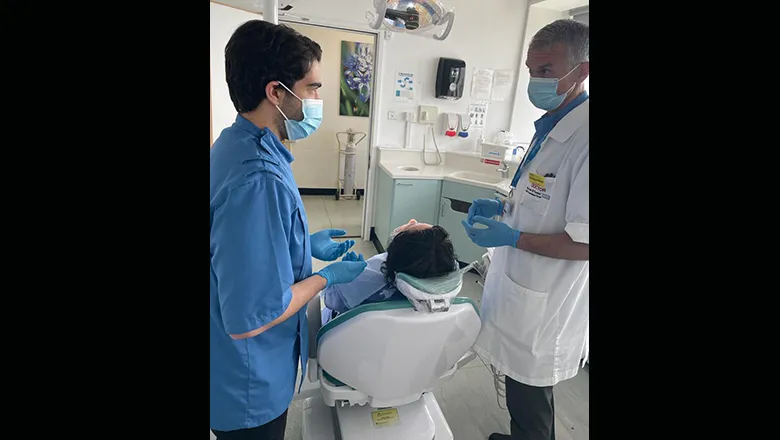 Dr Giuseppe Mainas and Professor Luigi Nibali treat a patient.
In the review recently published in Clinical Oral Investigations, the effects on both treatment response (usually measured as gum pockets and bleeding) and inflammation were studied, as it is known that periodontitis results in inflammation not just locally but also in the circulation. As the first systematic review to assess the possible effect of dietary restrictions on periodontal (gum) disease, the study found that some improvements were made in the periodontal condition, by reducing the local and systematic inflammation.
4 animal studies and 2 human studies were included in this review. The King's College London team found that some dietary/caloric restriction approaches may have the potential to affect periodontal conditions, by reducing the local and systemic inflammation and by improving clinical parameters, thus reducing the periodontal disease progression, when compared to normal diet.
However, several limitations are present including the limited number of studies carried out in this topic, and the fact that the majority of them were on animal models. Further, the two human studies were methodologically simple (cohort or case–control) studies with only 4 months of follow-up period. Therefore, even if promising, the results should be taken with caution. Further studies in this area should be undertaken.
Said Professor Luigi Nibali, Professor of Periodontology at the Faculty of Dentistry, Oral & Craniofacial Sciences at King's College London:
"If confirmed, the results shown in this review could suggest caloric restriction as a means to reduce periodontal inflammation and potentially improve treatment response."
"Caloric restriction to 500 to 1300 calories/day for short durations, with or without associated physical exercise, have been proposed so far. However, other regimes which can be proven to be both feasible and effective could be introduced in future."
In this story