07 July 2022
Entrepreneurial Alumni celebrated at Distinguished Alumni Awards
Adele Aitchison and Josephine Phillips recognised for their entrepreneurial skills and spirit at the 2022 King's Distinguished Alumni Awards.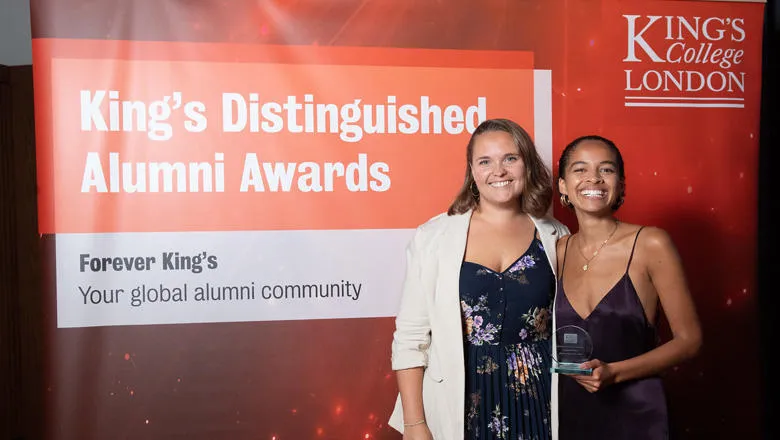 Rachel Stockey, Head of Entrepreneurial Skills and Josephine Phillips, founder of Sojo.
Adele and Josephine were amongst 12 winners from across the King's alumni community who have excelled in their fields.
Launched in 2017, the King's Distinguished Alumni Awards are an annual celebration recognising outstanding alumni who represent the King's ethos of trying to make the world a better place. The Awards recognise distinguished alumni and students who have demonstrated outstanding professional achievement, civic leadership, or service to King's and society.
King's Entrepreneur Award
This award recognises a King's graduate who showcases exceptional entrepreneurial spirit.
Winner: Adele Aitchison
Double alumna: English Language and Literature, MSc Gerontology and Ageing and Founder and Director of Grandnanny.
Adele founded Grandnanny, the UK's first intergenerational childcare service in 2020. Adele was part of the King's20 Accelerator and Women Entrepreneurs Network, demonstrating her ambition, drive and passion towards finding innovative solutions to key challenges within society.
King's Emerging Leader Award
Winner: Josephine Phillips
Physics with Philosophy alumna and Founder and CEO of Sojo.
This award is given to a recent graduate (within last 5 years) who has exhibited exceptional success or rapid progression within their chosen profession.
Since founding Sojo, Josephine has demonstrated strong leadership and ambition. She took part in Idea Factory, the Entrepreneurship Institute's flagship idea generation competition and then joined the King's20 Accelerator. Sojo provides an easy and hassle-free way to get clothes altered and repaired. It has appeared in Vogue and most recently received support from Google's Black Founders Fund.
Other Award Winners
Many of the other award winners demonstrated entrepreneurial skills, approaches and behaviours during their careers, proving that entrepreneurial thinking can be applied to any sector, any career and any future.
They include:
Stephanie Boyce, a solicitor who is disrupting the legal system and leading within the fields of diversity and inclusion (Alumna of the Year);
Nkasi Stoll, a PhD Candidate and co-founder of Black People Talk, which designs, delivers and evaluates peer support programmes for Black university students (Future Alumna Award);
Savraj Kaur, co-founder of Ready Tech Go, a non-profit aimed at addressing the digital divide and supporting refugees, asylum seekers, and migrants (King's Local Community Impact Award);
Rajiv Sethi, a clinician, educator, innovator and leader in medical education and digital health (Global Health Alumni Award).
A full list of the 2022 Award Winners can be found on the Alumni website.