29 September 2020
Exploring the COVID 19 impact on delivering periodontology treatments
Academics and undergraduate students at King's investigate how COVID-19 has impacted periodontal practice in the UK.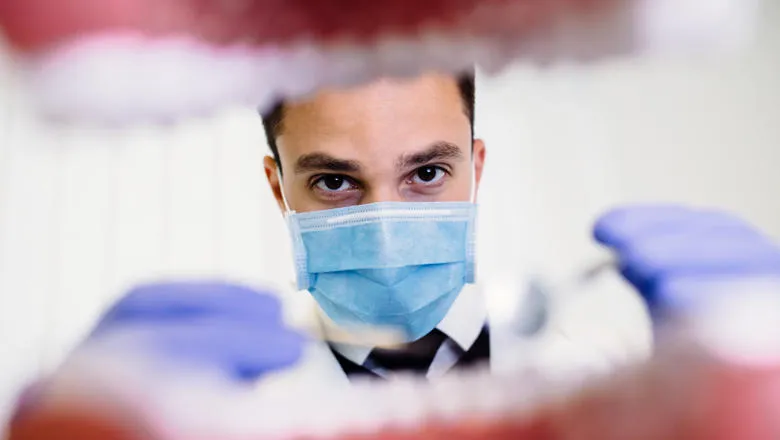 Dentist
The start of 2020 saw the global coronavirus COVID-19 pandemic affect many facets of public health across the world. Experts are only just now starting to understand the ongoing impact of the pandemic. It has presented a challenging environment in which the dentistry profession has needed to evolve rapidly. Performing procedures safely for both patients and staff in the face of the virus is uncharted territory.
In a paper published recently in the Journal of Dentistry, academics and undergraduate students at King's College London set out to investigate how COVID-19 has impacted periodontal practice in the United Kingdom. Periodontology is the speciality of dentistry that studies supporting structures of teeth, as well as diseases and conditions that affect them.
An online survey was sent to members of the British Society of Periodontology and Implant Dentistry. A total of 358 respondents engaged in the survey, who as a profession, deliver oral health care treatment in periodontology and hygiene therapy. Giving respondents time to fully assess and reflect on the situation, the survey was issued around two months after initial restrictions were implemented and followed up two weeks after gradual returns to work were implemented.
The great majority of participants thought that the pandemic had a significant impact on their profession. Financial implications of the pandemic were high on the list of concerns for most respondents and listed as one that is having a major impact on their mental wellbeing. Individuals highlighted the adverse impact of practice closures on patient perceptions of dentistry, concerns about the future of dentistry and practical issues such as the need for spaced appointment times to deliver heightened infection control procedures.
The health care providers were also concerned about providing appropriate levels of care during this unprecedented time. "Respiratory droplet and aerosol transmission have been identified as potential routes of COVID-19 transmission," explains Dr Mark Ide, Reader in Periodontology from King's College London. "Dental professionals have been identified as being very high risk of exposure, specifically when carrying out aerosol generating procedures on infectious patients, and this has necessitated big changes in procedures throughout many aspects of dental care."
The survey found that whilst this was a key worry, most respondents had adapted the new ways of delivering care, in particular, infection control procedures. The majority strongly agreed that their establishment was compliant with procedures, and this is now an area they are now continuing to place strong emphasis on.
Professor Luigi Nibali, lead author and Professor of Periodontology at King's explains: "Although the COVID-19 pandemic is causing profound changes and worries for the profession of Periodontology, clinicians are clear about their capability to control the situation and feel they have the motivation to make the required changes."
"Most dentists and hygienists taking part in this survey felt they have physical and psychological ability to make the necessary changes to adapt to the new developments due to the pandemic, even if not all feel that opportunities for changes are available, which sends a clear message about the strength and resolve of the profession," adds Dr Koula Asimakopoulou, Reader in Health Psychology at King's College London.
86% of respondents felt that the Government had not sufficiently supported the dental profession during the period, and likewise 86% moderately or strongly felt that the General Dental Council (GDC) had also not supported the profession.
Dr Ide explains: "The strength of these views was evident in free-response comments which confirmed that respondents felt more supported by some professional and specialist bodies such as the BDA, BSP and BSDHT."
"Investigating the professional response to change and expected impact is of interest in the current climate as we navigate the 'new normal'. These results could be useful in informing support strategies moving forward," concluded Dr Ide.
The research was a collaboration between academics and undergraduate students at King's College London's Faculty of Dentistry, Oral & Craniofacial Sciences.
In this story