29 November 2018
Jenny Gallagher launches Faculty Inaugural Lecture Series
Professor Jenny Gallagher is the Newland-Pedley Professor of Oral Health Strategy at King's College London. In the first of the Faculty of Dentistry, Oral & Craniofacial Sciences Inaugural Lecture Series, Professor Gallagher shared with the audience an overview of her career and history, and insight into the namesake of her Professorship, Frederik Newland-Pedley.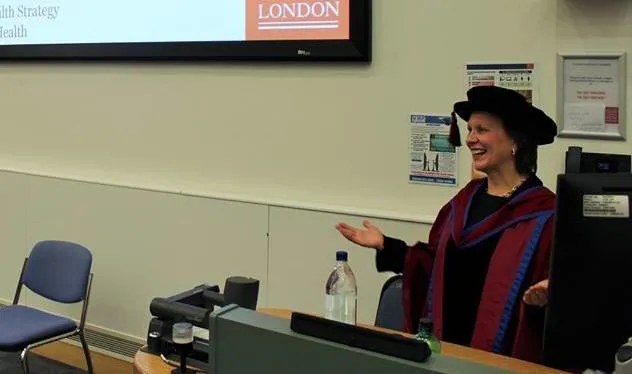 Professor Gallagher is the Dean for International Affairs at the Faculty of Dentistry, Oral & Craniofacial Sciences. As a clinical academic Professor Gallagher is an honorary consultant in Dental Public Health with King's Health Partners and, externally with Public Health England, working to link research, education, policy and practice.
Professor Gallagher's lecture not only covered her career and achievements but gave the audience an in-depth account on Frederic Newland-Pedley. Newland-Pedley established Guy's Dental Hospital in 1889 and this was just one of his many achievements shared by Professor Gallagher at her lecture. Through thorough research into the pioneering dental professional, including a trip to Lake Como in Italy to one of his past residences, Professor Gallagher explained how Newland-Pedley's legacy has benefitted generations of staff and students at Guy's.
Professor Mike Curtis, Executive Dean of the faculty said of the lecture:
"Inaugural lectures are a great way for all staff and students to hear about the career histories of our professorial staff and to celebrate their achievements in an accessible and friendly format followed by a convivial reception. The inaugural lecture of Professor Jenny Gallagher was no exception to this rule. Jenny gave a fascinating account of her academic story from growing up in Belfast, through excursions to Africa and finally to her promotion to Professor in 2014 and taking up the Newland-Pedley Chair in 2015. Her lecture was also illustrated by a fascinating account of the life and times of Frederic Newland-Pedley, the founder of academic dentistry at Guy's Hospital, and the tremendous legacy he has left to us in terms of education, research and patient care.
I hope that everyone joins me in looking forward to the next in the series of these lectures in 2019."
Professor Gallagher's research takes a population health perspective to serving the oral health needs of society, particularly vulnerable groups. She has contributed to national and international working groups and is a past President of British Association for the Study of Community Dentistry, the Odontology Section of the Royal Society of Medicine and Co-President of European Association for Dental Public Health. She is involved in a range of global health initiatives including working with the World Health Organization. In 2015 Professor Gallagher received an MBE for services to oral health.
In this story