24 January 2022
King's alumni wins prestigious Turner Prize 2021 for work addressing social and political issues
Thomas Wells (MA Education in Arts and Cultural Settings, 2014) has won this year's Turner Prize as part of a collective of artists who use installations, performance art and protests to explore social issues.
King's alumni Thomas Wells has been awarded the prestigious Turner Prize 2021 for his work with Array Collective, a Belfast-based group of artists that works with communities to respond to social and political issues through performances, protests, exhibitions and events.
In awarding the £25,000 prize to the group at the ceremony in Coventry on 1st December 2021, the jury commended the way they fuse seriousness with humour, and address contemporary issues affecting communities in Northern Ireland using ancient folk imagery.
For the Turner Prize 2021, they produced an immersive installation in the form of an imagined síbín (a 'pub without permission') where visitors can watch a film created from a previous event at the Black Box in Belfast, as well as the Northern Ireland Screen's Digital Film Archive.
Dr Anwar Tlili, Programme Director of the MA Education in Arts and Cultural Settings, said: "We are so proud to see Tom and his collective getting such high-profile recognition of their creative work through the Turner Prize. I am also delighted to see how the Síbín masterpiece is both socially and politically engaging. In terms of its artistic crafting, it is a highly thoughtful and aesthetically accomplished artwork that speaks to many of the core concerns of the MA programme, as it uses multiple art forms and combines them with a strong concern for politics and social justice, a participatory approach to artistic creation, and a view of art as a social force for good."
Thomas, a founder and leading member of the group, explained that their creation aimed to be a place of contradictions, which opens to the possibility of going beyond the sectarian divides that have dominated the collective memory of the North of Ireland for the last century.
He said: "It is incredibly humbling that the judges decided to celebrate the range of art practice and the talent that is here, in Northern Ireland! A lot of people, especially in England, are unaware of the history and social issues faced by the north of Ireland. So, to highlight these issues on a national level is an incredible opportunity."
Array Collective is made up of 11 individual artists, who all work within Northern Ireland arts sector organisations. Thomas said: "We hope that the impact of the collective's win will only help to benefit all of those other organisations – like Catalyst Arts, and studio groups such as Queen Street Studios and FLAX – by finally giving them the value and credit they deserve through long-term sustainable funding, security in premises, and the resources they need to innovate in the cultural sector."
Besides, since the Array Collective has built strong relationships with the other shortlisted collectives (Black Obsidian Sound System, Project Artworks, Gentle Radical and Cooking Sections) while they were all in Coventry for the production and exhibition, which closed in early January 2022, they are hoping to use these new links to "promote the benefits and importance of collective working within the art market," Thomas said.
As for the group's future work, he added: "We are currently reviewing what the next step is. We would of course want the Síbín to be experienced in Ireland, and especially Belfast. The support we have had for the work by our community here at home has been incredible so we look forward to sharing it with those who didn't manage to get over to Coventry."
More details about the next steps and actions of the Array Collective can be found on their Instagram.
Photos: Matt Alexander/PA Wire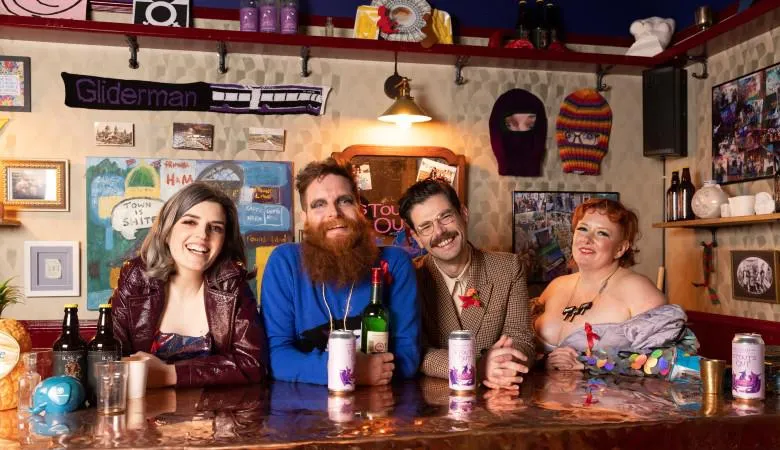 Four of the 11 members of the Array Collective, in the installation they created for the Turner Prize 2021.
In this story