07 July 2022
King's experts share their insights amid political turmoil in Westminster
Academics from the School of Politics and Economics at King's have been sharing their insights with media amid a tumultuous few weeks for Boris Johnson's government.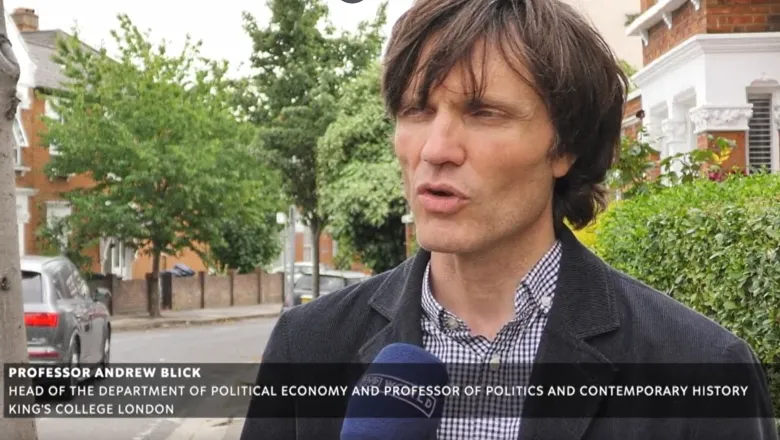 Professor Andrew Blick speaks to TVP World. Picture: TVP WORLD
As a slew of government ministers, aides, and officials quit their posts and pressure ramped up on the prime minister, academics have offered their expert view on the political, constitutional and historical context surrounding the ongoing events.
Professor Andrew Blick, head of the Department of Political Economy, spoke to Polish broadcaster TVP World about the flurry of resignations (from 06:30), and also commented on the scale of the ministerial revolt with Brazilian publications, Estado de Minas and Correio Brazilinese.
Prof Blick spoke to Kay Burley on Sky News on the concept of Boris Johnson as a caretaker PM.
Dr Rod Dacombe, head of the Centre for British Politics and Government, discussed the apparent lack of viable alternative leaders with CNBC International. Dr Dacombe also spoke to the Daily Express recently about the possibility of a second vote of no confidence in the prime minister's leadership.
In an interview with the Toronto Star, Dr Dacombe looked at how the UK's last seven prime minister's ended their time in office.
Professor Jonathan Portes discussed the prime minister's track record and legacy in an interview with Polish publication, Rzeczpospolita. Prof Portes also discussed the Conservative party leadership race with American broadcaster CNBC.
The New York Times featured Professor Vernon Bogdanor as part of its coverage of Boris Johnson's exit from Number 10.
Professor Anand Menon shared his thoughts on Boris Johnson's resignation, the timeline for his successor and the nature of a caretaker prime minister with PBS.
Professor Roger Mortimore spoke to Vox about the circumstances which led to MPs turning on the prime minister.
In this story