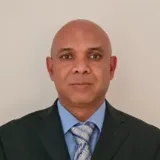 Dr Abdulla Sodiq
Lecturer - Assessment Advisor
Biography
Dr. Abdulla Sodiq is an educational governance researcher and a lecturer in educational assessment at King's College London and a founding director at Maldives Research. He has interests in researching educators' status in educational governance; educational assessments and the UN's Sustainable Development Goal number 4 (SDG4), Education. His research methodologies consist of combined methods, case studies and discourse analysis of spoken and written communications in governance and assessments.
 Abdulla's career in education started in 1998 and has taught English Language both in the Maldives and in the UK. He joined King's College London as a lecturer and advisor in educational assessment in January 2019 after 24 years of service in the education sector in the UK and in the Maldives. Prior to joining King's served at Birmingham City University (BCU) for 4 years as a lecturer in Education Studies and as the Assessment Lead in the in department for Youth, Community and Children. Some of his roles at BCU included Deputy Chair of the Assessment Boards (Education: Youth, Community and Children) Deputy Chair of Academic Research Ethics Committee (Health, Education, and Life Sciences).
 He completed a Doctorate in Education in 2017 at University of Warwick's Centre for Education Studies and his MA was in Applied Linguistics and Teaching English to Speakers of Other Languages (TESOL) at the University of Leicester.
 In the HE sector, he has experience in supporting and supervising PhD students; supporting staff in assessment and pedagogy, teaching and leading modules in Education Studies and Linguistics; conducting international and national research in education; and reviewing UK Research Council (ESRC) bids proposing to explore contemporary issues in education.
 Research Interests and Activities:
Abdulla's research interests lie in educational assessments and the role of academics in the governance of educational institutions both nationally and internationally.
- Fellow of Advanced-HE (UK)
- HE and FE Lecturer in the UK with teaching experience since 1998.
- experience in designing research bid proposals and implementing education and multidisciplinary research projects
- Research interests in educational assessment and governance
- experienced in skills training and mentoring PhDs and experienced professionals
- delivering education through e-learning methods since 2001
- UK Company Directorship since 2008
- Secondary school governor, UK.
 Publications List:
 Academic/Professional Profiles: