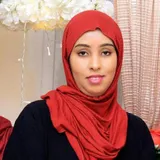 Hamda Ali Abdillahi
Coordinator, Somaliland, King's Global Health Partnerships
Biography
Hamda has worked in the health sector in Somaliland for over 10 years, firstly as a nurse and midwife in her early career, and then as a thesis supervisor, tutor, and clinical instructor of Health Science at University of Hargeisa (UOH) and Edna Adan University (EAU).
Prior to joining KGHP, she worked with Somaliland Nursing and Midwifery Association within health sector programming projects in various roles, such as FGM projects lead, service delivery, Maternal and Neonatal Care programming with different stakeholders, including the Ministry of Health Development, other government authorities and commissions, Hospitals and medical providers, the United Nations and international and local NGOs across Somaliland.
Hamda trained as a nurse at EAU, graduating in 2009, then did a postgraduate training as a midwife in 2010. She has a Bachelor's degree in Midwifery from UOH and a Master's degree on sexual reproductive health and rights from Dalarna University in Sweden.
She is passionate about building leadership skills, influencing the younger generation, and promoting girls' higher education.  She is currently one of the Somaliland TALENT Group coordinators in a collaboration between Health Education England (HEE), University of Salford, Tropical Health Education Trust, and Nursing Now Challenge. The initiative offers an innovative, sustainable approach to leadership development which will benefit early career nurses and midwives in different countries.
Hamda has contributed to the following academic research: "A mixed-methods study of maternal near miss and death after emergency caesarean delivery at a referral hospital in Somaliland." Published in "The International Journal of Gynecology & Obstetrics" in May 2017, and "Factors affecting utilization of Antenatal care (ANC) services among women of childbearing age in Hargeisa, Somaliland" with the Epidemiology and Global Health department at Umeå university, Sweden, and Somali- Swedish Researchers' Association (SSRA).