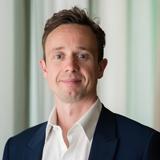 Professor John Bew
Professor in History and Foreign Policy
Contact details
Biography
Dr John Bew is a Professor in History and Foreign Policy at the Department of War Studies, King's College London, where he leads a major new project called the Grand Strategy Programme. The core aim of the Grand Strategy Programme is knowledge transfer: to bring more historical and strategic expertise to statecraft, diplomacy and foreign policy. It will also investigate the origins and future of the idea of World Order, with the support of a grant from the Leverhulme Trust. 
In 2015, he was awarded the Philip Leverhulme Prize for Politics and International Studies, which 'recognises the achievement of outstanding researchers whose work has already attracted international recognition and whose future career is exceptionally promising'. In 2013-14, he was the youngest ever holder of the Henry A. Kissinger Chair in Foreign Policy at the John W. Kluge Center at the US Library of Congress. In 2014-15, he held a Leverhulme Trust Scholarship in order to complete my history of the concept of realpolitik. He was formerly co-Director of International Centre for the Study of Radicalisation and Political Violence, having arrived at King's in 2010.
He is the author of five books and numerous academic articles, which are bound together by an interest in history and contemporary statecraft. His fifth book, Citizen Clem: A Life of Attlee (Riverrun and Oxford University Press), was published in September 2016 and has been described as 'easily the best single-volume, cradle-to-grave life of Clement Attlee yet written'. His fourth book Realpolitik: A History, was published by Oxford University Press in January 2016, and was widely reviewed widely in the international media including the Financial Times, Prospect, New Statesman, National Interestand Wall Street Journal, as well as the top peer-reviewed journals in the field.
His third book, Castlereagh: Enlightenment, War & Tyranny (Oxford University Press), was the lead review in the Times Literary Supplement, and a book of the year in The Wall Street Journal, The Spectator, Sunday Telegraph, Total Politics, and BBC Parliament's Booktalk. Previous books include a co-written work, Talking to Terrorists: Making Peace in Northern Ireland and the Basque Country (Columbia University Press, 2009), which was named in Foreign Policy magazine's Global Thinkers Book Club and as the best in its category in the journal, Perspectives on Terrorism.
He is a contributing writer at the New Statesman, and cover the release of state papers for the Irish Times. He has also written for the Times Literary Supplement, American Interest, National Interest, New Republic, Literary Review, and History Today. He is currently working with the think tank Policy Exchange, where he is leading a new academic commission examining the question of Britain in the World. The project was launched by the UK Secretary of State for Defence in May 2016 and aims to bring more academic expertise into the policy making process.
From 2007-10, he was Lecturer in Modern British History, Harris Fellow and Director of Studies at Peterhouse, Cambridge University, where he was previously a Junior Research Fellow. He completed his education at Pembroke College, Cambridge where he was a Foundation Scholar and a Thornton Scholar and attained a first class BA in History. He won the Member's Prize for the best MPhil in Historical Studies, before going on to complete his PhD in 2006. 
Research Interests
His research interests broadly fall into the bracket of 'history, strategy and statecraft', with a particular emphasis on the role of ideas in foreign affairs and state formation. He is increasingly interested in the concept of 'applied history'. Specific areas of interests include:
Grand Strategy
Anglo-American foreign policy and statecraft in the modern era
Concepts of world order and the international system
National identity, state formation and political thought in the British Isles
State approaches to terrorism and political violence
Please note that he is a historian and will not accept PhD applications in the area of radicalisation or social science. 
Publications
(select – see Amazon author page for further details)
Citizen Clem: A Life of Attlee (Riverrun: London/Oxford University Press: New York, 2016)
Realpolitik: A History (Oxford University Press: London and New York, 2016)
Castlereagh: Enlightenment War and Tyranny, (Quercus: London; and Oxford University Press: London and New York, 2012)
The Glory of being Britons: Civic Unionism in Nineteenth-Century Belfast, (Irish Academic Press: Dublin and Portland Oregon, 2009)
[with Martyn Frampton and Inigo Gurruchaga] Talking to Terrorists: Making Peace in Northern Ireland and the Basque Country, (Columbia University Press: New York 2009)
J. Bew (ed.), Belfast Politics: Thoughts on the British Constitution (University College Dublin Press: Dublin, 2005 edn.)
Recent chapters and articles
'Northern Ireland: From War to Peace, 1968-2010', in T. Bartlett', Princeton Guide to Modern Ireland (Princeton University Press, 2016)
'Ireland Under the Union, 1801-1922', in R. Bourke and I.R. McBride (eds.), The Princeton Guide to Irish History (Princeton University Press, Princeton, NJ, forthcoming 2016)
'The Challenges of Peace: The High Politics of Post-War Reconstruction in Britain, 1815-1830', in Karen Hagemann, Allan Forest and Michael Rowe (eds.), The Atlantic World in the Age of Revolutions, c. 1775- 1830 (Palgrave Macmillan: Houndsmill, forthcoming 2016)
 'The Northern Ireland model of Counter-Insurgency', in Celeste Ward Gventer, David Martin Jones and M.L.R. Smith (eds.), The New Counter-insurgency Era in Critical Perspective (Palgrave Macmillan, Houndsmill, 2014)
 '"From an umpire to a competitor": Castlereagh, Canning and the issue of intervention in the wake of the Napoleonic Wars', pp. 117-138, in B. Simms and D. Trim (eds.), Humanitarian Intervention: A History to 1980 (Cambridge University Press: Cambridge, 2011)
'Debating the Union on foreign fields: Ulster Unionism and the importance of Britain's "place in the world", c. 1830-1870', pp. 137-153, in B. Simms and W. Mulligan (eds.), The Primacy of Foreign Policy in British History, 1660-2000: How Strategic Concerns Shaped Modern Britain (Palgrave Macmillan: Basingstoke, 2011)
 [with Martyn Frampton], '"Don't mention the war!" Debating Notion of a "Stalemate" in Northern Ireland', Journal of Imperial and Commonwealth History, Volume 40, Number 2, 1 June 2012, pp. 287-301.
[with Martyn Frampton], 'Debating the "Stalemate": A Response to Dr Dixon', The Political Quarterly, Vol. 83, No. 2, April–June 2012
Recent essays:
'The Syrian War and the Return of Great Power Politics', New Statesman(December, 2015)
'Difficult conversations', Times Literary Supplement (January, 2015)
'Pax Anglo-Saxonica', The American Interest, (May-June, 2015)
'The Tragic Cycle', New Republic (August 2014)
'The Case for Cornwallis', National Interest (November-December, 2014)
'The Real Origins of Realpolitik', National Interest (March-April, 2014)
'Waterloo: Beyond the Battlefield', History Today Volume 63 Issue 9 (September, 2013)
Teaching
He convenes two BA modules:
Grand Strategy and the Foundations of Anglo-American Statecraft
The 9-11 Era: Anglo-American Foreign Policy Since 9/11
He also teaches on the Terrorism and Counter-Terrorism MA core course. 
PhD Supervision
He is currently unable to take on new PhD students.
Expertise and Public Engagement
He formerly ran a series of seminars at the Foreign Office, working with the Knowledge and Information Department, at which academic experts addressed Foreign Office staff on their areas of expertise. He is leading a project with the think tank Policy Exchange, to bring more academic expertise to the foreign policy debate in Westminster, working with politicians from across the political spectrum. He is also running a summer school in conjunction with the Clements Center for History, Strategy and Statecraft at the University of Texas, for the next generation of foreign policy leaders.
In 2009, he was profiled by The Observer as one of the rising stars of the historical profession and in 2011 the Daily Telegraph named him 'one of the most exciting young historians in Britain'. He was also profiled by the Washington Diplomat during my tenure as Kissinger Chair at the Library of Congress. He has spoken at venues around the world including the British and European Parliament, the National Defence University and Library of Congress, and the Locarno Room of the British Foreign Office, and given a number keynote lectures.
He is an experienced broadcaster, making regular appearances in the media for outlets such as CNN, BBC News, Sky News, Reuters, Monocle, Voice of America, and France 24. He was formerly a panellist on BBC's Newsnight Review and has written and presented a number of television and radio documentaries for the BBC. For non-academic speaking events, public lectures and book fairs, please contact Capel Associates.