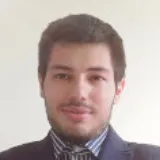 Dr Konstantinos Lyras
Research Associate
Contact details
Biography
Dr Konstantinos Lyras is a Research Associate with a particular focus on fluid mechanics, machine learning and high-performance computing. His research focuses on both fundamental and applied computational fluid dynamics (CFD), with a focus on developing improved numerical models and approaches for complex industrial simulations.
He has worked on a number of EU projects with leading research groups and companies in Greece, France and the UK, developing new numerical models suitable for complex industrial flows. He completed his MEng studies in Greece at the National Technical University of Athens before coming to the UK to undertake a PhD with the prestigious Marie Skłodowska-Curie Fellowship.
His research into the development of the next generation of engineering simulation and modelling techniques in collaboration with St Thomas' Hospital aims to develop patient-specific models, building methods from angiograms, establishing appropriate fluid dynamics models and contributing towards a prototype software platform that packages up these functionalities. He has also written for a number of leading international science magazines on science and engineering.