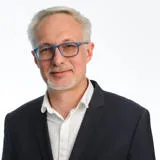 Professor André Strydom
Professor in Intellectual Disabilities
Research interests
Disability
Neuroscience
Mental Health
Contact details
Biography
André Strydom is a specialist in the Psychiatry of Intellectual disabilities. Professor Strydom is an expert in ageing-related issues and the cognitive issues associated with Down syndrome (trisomy 21), including Alzheimer's disease. He leads the NHSE's LeDeR partnership with King's College London and other partners to address avoidable causes of death in people with a learning disability or autistic people.
Current projects and collaborations include the LonDownS study, previously funded by the Wellcome Trust and currently funded by the MRC to study the development of Alzheimer's Disease in Down syndrome; other funders include the NIH, Baily Thomas Fund and the Jérôme LeJeune Foundation. This work concerns detailed cognitive phenotyping of individuals with Down across the lifespan, and tracking change with ageing using MR, EEG and fNIRS neuroimaging, and includes identification of plasma biomarkers of cognitive decline using markers related to inflammation, amyloid, neurodegeneration, and oxidative stress. 
He is a founding member of the Horizon21 European clinical trial network for Alzheimer's disease in Down syndrome funded by the Jérôme LeJeune foundation, and one of the investigators in the European Union's Go-DS21 study of comorbidities during the early lifetime in Down Syndrome, as well as the international trial-ready cohort (TRC-DS) study of older adults with Down syndrome funded by the NIH.
Dr Strydom leads the Neurodevelopmental disorders clinical trials centre (ND-CTC) in the FANS department which conducts phase II/III clinical trials for treatments of conditions associated with Autism, Down syndrome and Fragile X syndrome. The ND-CTC currently supports industry sponsored trials of several new drug treatment options.
Research Interests
Down syndrome
Alzheimer's disease
Intellectual disabilities
Autism
Fragile X syndrome
Health inequalities
Expertise and Public Engagement