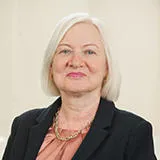 Professor Gillian Douglas
Professor of Law
Emeritus Executive Dean, The Dickson Poon School of Law
Contact details
Biography
Gillian Douglas has an LLB from Manchester University and gained an LLM at the London School of Economics. In 2011 she was awarded the degree of LLD (Doctor of Laws) by Cardiff University. She has taught at the University of Bristol, the National University of Singapore and Cardiff University, where she served as Head of the School between 2005 – 2010. She is a past Secretary-General of the International Society of Family Law.Between 2010-2014, she was Chair of the Law Sub-Panel for REF 2014 and has served as a member of the AHRC's Peer Review College and the Leverhulme Trust Research Awards Advisory Committee. She was elected a Fellow of the British Academy in 2017 and an Honorary Bencher of Gray's Inn in 2018. She is also a Fellow of the Higher Education Academy, the Learned Society of Wales and the Academy of Social Sciences.
Research interests
Professor Douglas researches in family law, focusing on the relationship between law and social change across the family life-course. Her work ranges from examining access to treatment for assisted reproduction through to public attitudes to inheritance law and the courts' approach to challenges to wills. She has conducted a number of empirical studies which have focused on the impact of relationship breakdown on family members, including on the relationship between grandparents and their grandchildren and on how children's views can be taken into account when courts are dealing with parental disputes. She has recently completed a study funded by a Leverhulme Trust Major Research Fellowship on obligation and commitment in family law. She is a case reports editor for the leading practitioner journal, Family Law and is a co-editor of Child and Family Law Quarterly. 
Selected publications 
G Douglas, Obligation and Commitment in Family Law (Hart Publishing, 2018)
N Lowe and G Douglas, Bromley's Family Law (Oxford University Press, 2015, 11th edn)
G Douglas et al, 'Enduring Love? Attitudes to Family and Inheritance Law in England and Wales (2011).
See Professor Douglas's full research profile on King's Research Portal.