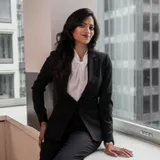 Rita Kakati-Shah MBE
Entrepreneur and diversity champion
Biography
Rita Kakati-Shah (Mathematics & Management, 2001) is a distinguished alumna of King's. She has won many international awards in recognition of her work as an inspirational business leader, entrepreneur and pioneer in empowering women and girls, encouraging youth development, and championing diversity and inclusion.
In 2016, Rita founded Uma, a network aiming to bring talented individuals back into the workforce following a career hiatus. Offering coaching, consultancy and training, Uma's goal is to empower women and minorities around the world with confidence, leadership skills and resilience. Uma was named by the UN at the Global Sourcing Council's 3S Awards for being a socially conscious business that positively impacts on people's lives. Rita has featured in entrepreneurial, business and lifestyle publications as a thought leader and role model.
As an extension of her work and as a member of the King's Business School Advisory Council, Rita has participated in the King's Business School Diversity Mentoring Programme, supporting King's students from diverse and minority backgrounds by offering industry insights and employment advice.
Rita started her career on the equities trading floor of investment bank Goldman Sachs in London, where she spent a decade after graduation and was a recipient of the prestigious Excellence in Citizenship and Diversity Award. She then moved into the healthcare sector, leading business development for a CNS clinical trials service provider, and relocated to New York. Following a career transition to raise her children, Rita witnessed first-hand the difficulties faced when resuming a paid professional career. As a result, she set up Uma to empower other individuals looking to return to paid work after a career transition, and the business has grown to have a presence in London, New York, Los Angeles, and around the world.
In January 2022, US President Joe Biden and AmeriCorps bestowed upon Rita a US Presidential Lifetime Achievement Award – the highest level of the President's Volunteer Service Award – recognising her international mentoring and volunteering efforts to support young people, women and minorities of all ages. Rita has volunteered to work with senior citizens, empower women in Assam and Zambia, help students to draft legal bills around gender equality at the United Nations Parliamentary Assembly and give motivational talks to schoolchildren.
She is also a frequent media contributor and advisor to Fortune 500 companies, serving on multiple boards and committees around the world. She published The Goddess of Go-Getting: Your Guide to Confidence, Leadership, and Workplace Success in 2022.