Business & Finance
Risk Management in Emerging Economies: A Marketing Perspective. The Context of Human-Wildlife Conflict (HWC) Insurance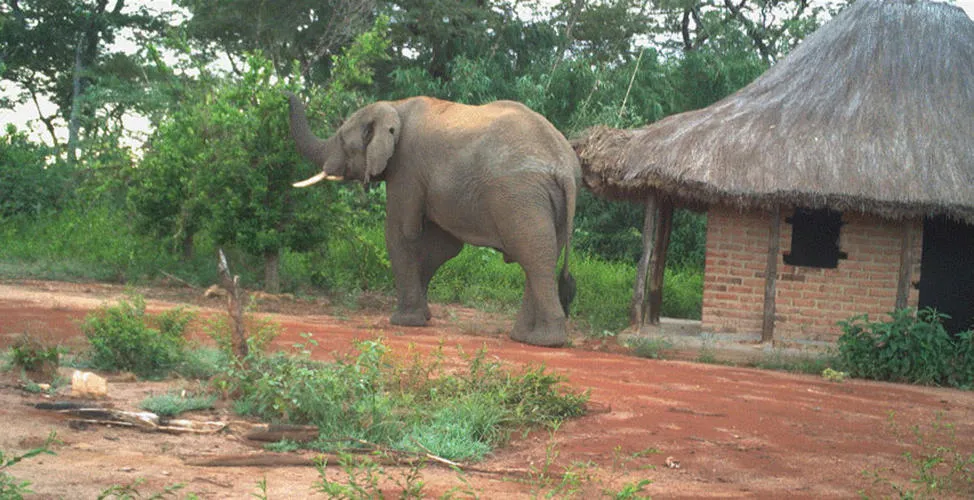 Image source: Chimanimani National Park/ANAC.
Note: The photo above was taken by Chimanimani National Park's human-wildlife conflict (HWC) management team with a camera trap in March 2022. It shows a village in the Park's buffer zone where collisions between villagers and wild elephants have been occurring regularly. The villagers had to abandon the village and moved elsewhere.
The aim of our project is to study marketing of microinsurance to consumers at subsistence ends of emerging markets (EM), who are affected by human-wildlife conflict (HWC). Microinsurance is a complex financial product requiring extensive communication especially to first-time buyers who in our specific context may have limited education, financial literacy, and service experience.
HWC occurs when people and wildlife meet and compete for space and food. HWC microinsurance hedges the insured against damage from wildlife to their lives and possessions and contributes to solving a complex societal problem. It is considered a more efficient mitigation option than traditional measures like fencing.
While HWC can occur in nearly any geography it is most consequential in EM with their heavy dependence on agriculture, rapid urbanisation, and vast wildlife habitats. In Sri Lanka alone about 100 people die annually from wild elephants' attacks, while about 400 wild elephants are killed in retaliation (Gross et al., 2021).
Animation by Andrew Merritt with Matt Kebbell.
During the first project stage, i.e., the baseline study, we have conducted focus groups in an Indian national park and developed an educational boardgame with the help of an artist. We opted for a game as a means of communicating the benefits of HWC microinsurance since it can make a complex and unfamiliar service more tangible to the target population.
The game is designed to help mitigate the challenges experienced in discussing the complexities of insurance service provision; a challenge faced by insurance representatives and researchers on the one side, and local smallholders on the other side. In subsequent project stages we plan an intervention, and an uptake study to learn more about the mechanisms of microinsurance adoption.
Our project supports King's Business School's objective to "make the world a better place". It is in sync with the UN's Sustainable Development Goals about "protecting the planet" and "reducing poverty" which collectively provide a canvas for King's Business School research and education.
Gross, E., Jayasinghe, N., Brooks, A., Polet, G., Wadhwa, R., and Hilderink-Koopmans, F. (2021), "A Future for All: The Need for Human-Wildlife Coexistence," (WWF, Gland, Switzerland).
Funding
This project was funded by the King's College London x Somerset House Studios collaboration from November 2021 to April 2022 for £5,000, and by King's Business School from November 2021 to June 2023 for £9,600. It's currently supported by a BA/Leverhulme Small Research Grant for £10,000 until June 2024.
Our Partners
Project status: Ongoing
Principal Investigators
Affiliations
Keywords
MARKETING
HUMAN-WILDLIFE
MARKETS
ECONOMIES
MICROINSURANCE
RISK
MANAGEMENT