02 November 2023
Academic insights on Israel and Gaza
Academics and researchers from King's have shared their expertise around events in Israel and Gaza and the wider consequences of the ongoing conflict.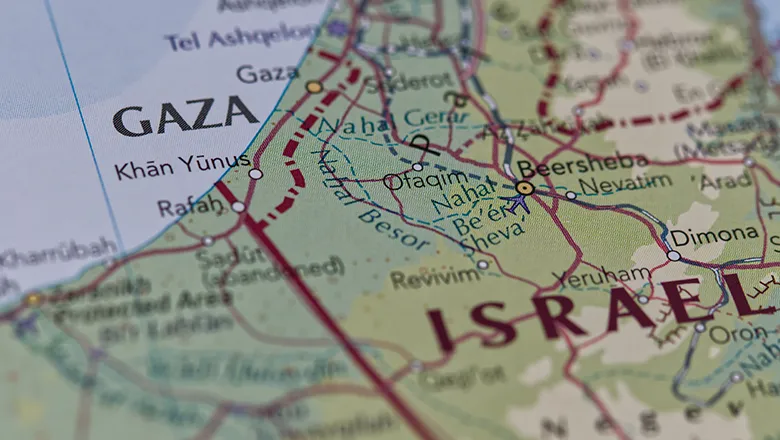 Since the attacks on 7 October, our academic and research insights have been in demand as the media and public seek analysis around what is happening in the region and the wider global consequences of the conflict.
The day after Hamas' attacks, Professor Sir Lawrence Freedman, Emeritus Professor of War Studies, wrote an article for the New Statesman based on a piece from his Comment is Freed' Substack around the likely political backlash within Israel, compared it with the 1973 Yom Kippur war and set out shortcomings in how Israel has sought to contain Hamas.
A few days after the initial attacks, he was also a guest on the Financial Times podcast discussing the situation and on 14 October he wrote a piece for the Financial Times about the importance and challenges of strategy and the potential objectives of the two sides. He has also been quoted in the Australian Financial Review, two Spanish media outlets El Diario AR and La Vanguardia and in the Daily Telegraph.
Dr Michele Groppi, Lecturer in Defence Studies, wrote a piece for The Conversation on 9 October outlining how Hamas, achieving terror, escalation, and disruption to the international order, has achieved some if its aims in attacking Israel. He also appeared on BBC News on 10 October and as a guest on The Why? Curve podcast on 19 October and on the Modern War Institute at West Point podcast on 23 October discussing Hamas' motives for its attacks.
On 11 October, Elena Grossfeld, Ph.D. candidate in War Studies, wrote an article for ForeignPolicy.com about what Israeli intelligence got wrong about Hamas and how the power of preconceived ideas might have influenced it failing to anticipate the 7 October attacks.
Dr Ahron Bregman, Senior Teaching Fellow in the School of Security Studies, was quoted by the New Statesman on 13 October in an article about Israel's planned ground invasion and whether it wants to topple Hamas. 
The i quoted Dr Jade McGlynn, Leverhulme Early Career Post-Doctoral Fellow, on 13 October about whether events in the Middle East will prove a distraction from Ukraine and could affect international support for President Zelensky and his troops.
One week on from the Hamas attacks, Dr Jack McDonald, Senior Lecturer in War Studies, wrote a piece for The Economist analysing whether Israel's actions and response are within the international laws of war. He was also quoted I article on Mint India and Challenges (France).
Professor Jeroen Gunning, Professor of Middle Eastern Politics and Conflict Studies, discussed Hamas' motives when he appeared on the New Lines Magazine podcast, and was quoted in pieces run by Newsday (USA), two Dutch media outlets NRC and NOS Nieuwsuur, two Belgian media De Morgen and Knack and the Danish website Dagbladet Information.
Dr Andreas Krieg, Senior Lecturer in the School of Security Studies, spoke with France24 on 18 October about whether Hezbollah might become involved in the conflict and the potential implications of this. He has also been quoted across a wide range of media on the conflict including the New York Times, Channel 4 News, CNN, the South China Morning Post (Hong Kong), Voice of America, BBC, Daily Mail, Times of Israel and Middle East Eye. 
On 24 October, Dr David Roberts, Senior Lecturer in the School of Security Studies, was quoted on the Associated Press about the role of Qatar in the negotiations over the hostages held by Hamas. He was also interviewed on LBC, BBC, and CBC (Canada) on 27 October and by Bloomberg on 29 October. 
Professor Peter Neumann, Professor of Security Studies, was quoted in The Daily Telegraph about the use of the word jihad at a protest in London. He was also quoted in The Guardian and in three German outlets Tagesspiegel, RedaktionsNetzwerk Deutschland and SRF.
Dr Emmanuel Karagiannis, Reader in International Security, was quoted in a piece on 27 October by Al Jazeera analysing European leaders' support for Israel to date, fears about a potential refugee crisis if the fighting escalates and also US concerns around its potential to affect peace in the region.
Also on 27 October on Al Jazeera, Dr Samir Puri, Visiting Lecturer in War Studies, was quoted in a piece about the potential for a ceasefire as suggested by the United Nations and the unlikelihood of that in current circumstances. He also spoke to Times Radio on the same topic.
Dr Anna Matveeva, Visiting Senior Research Fellow at King's Russia Institute, wrote a piece on 30 October for The Conversation about what role Russia could play in the Israel-Gaza conflict.
Tim Willasey-Wilsey, Visiting Professor in the Department of War Studies, wrote a piece for RUSI on the importance and challenges of restraint in counterterrorism.
While the situation is ongoing, King's academic experts will continue to share insights to help inform and provide analysis.
Support for our community
In response to the ongoing situation and humanitarian crisis, all those at King's affected by the Israel and Gaza conflict can access support here.
The University has also highlighted the Report + Support tool, on-campus security and reminded everyone that any racism, antisemitism, Islamophobia, abuse, violence and harassment has no place at King's and is totally unacceptable. In a message to all students and staff, Vice-Chancellor & President of King's, Professor Shitij Kapur also expressed how a University is a place where divergent opinions can be expressed and discussed, but that as a community, we need to always respect and support each other.
In this story