10 September 2022
Reaching the international research community at the 6th ILPN conference
The International Long-Term Care Policy Network conference was held 8-10 September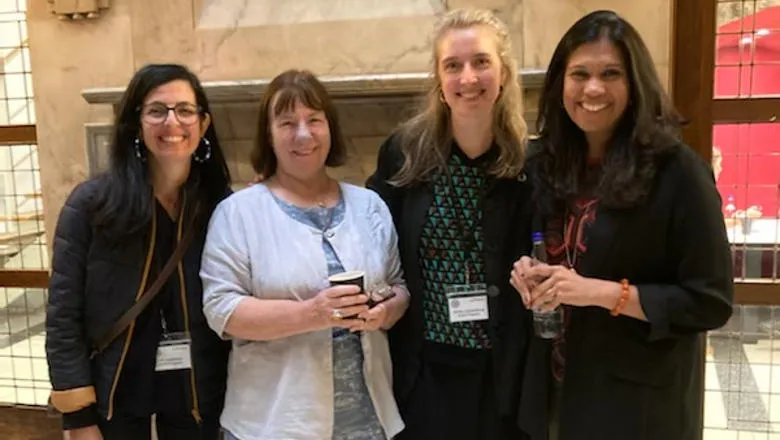 Dia Soilemezi, Jill Manthorpe, Olivia Luijnenburg and Kritika Samsi at the conference
Unit research featured prominently at the International Long-Term Care Policy Network conference with presentations covering research on home care workers, Shared Lives carers, personal assistants, and care home workers during the COVID pandemic. Taking place just next door to our own offices at the London School of Economics and Political Science (LSE), this was a great opportunity to reconnect with other long-term care researchers who focus on policy questions.
Both perspectives of the personal assistant (PA) relationship – employer and PA – were addressed through a COVID-19 pandemic lens in presentations from Caroline Norrie and Kritika Samsi. Drawing on interviews with PAs in 2021, Caroline and colleagues found that the uncertainties of their position remained, confirming the findings of an earlier study at the start of the pandemic to which the same participants had been recruited. This means we now have a valuable dataset of PAs' accounts of their work in this period. This study is funded by the NIHR Policy Research Unit in Health and Social Care Workforce core award to the Unit and builds on a PA study that took place prior to the pandemic as well.
Our second study of PA employers (people with care and support needs) is funded by NIHR's School for Social Care Research. This is a valuable interview study of a group whose experiences during the pandemic have largely been invisible. 70 PA employers have been interviewed, supplemented by a series of interviews with disability support organisations. The research team has developed a series of recommendations for policy and practice.
Our third study presentation focused on the activities of homecare workers in supporting people living at home with dementia. Study lead, Dr Dia Soilemezi from the University of Portsmouth, has been working with Professor Jill Manthorpe of HSCWRU, Dr Kristina Wanyonyi of Queen Mary Dental School, and Valerie Hill, dementia carer. The focus of the study is how the needs for mouth and teeth care (oral healthcare in technical terms) are covered in social care assessments, care planning and in practice. Interviews and analysis of assessments and care plans have been taking place from different parts of England. This conference presentation highlighted how mouth and teeth care was often subsumed under 'personal care' and so possibly overlooked or not sufficiently explicit. In contrast to care homes, there is little guidance or standards available to homecare services.
Following this Dr Carl Purcell and Prof Jill Manthorpe presented emerging findings from their study of Shared Lives schemes which is part of the SASCI ESRC-funded research programme on innovations in social care. This study is focusing on workforce innovations and so is exploring what is innovative about Shared Lives carers – these being self-employed care providers, the staff supporting them locally (voluntary sector based or local authority) and nationally (voluntary sector staff providing central resources and support with high levels of policy engagement).
Our final Unit presentation focused on the experiences of ancillary care home staff during the COVID pandemic (cooks, cleaners, and other domestic workers) and was reported by Dr Kritika Samsi on behalf of the study team. Funded by the NIHR Policy Research Programme of COVID-19 awards, the research team spoke to a wide range of these staff across England. This has produced a unique account of the contributions of these 'key' workers and ideas for how they can be supported in COVID recovery.
On Twitter
In this story