02 November 2023
King's Careers & Employability unveils new Careers Centre at Strand Campus
Our new space is designed to support more engaging discussions, interactions and engagement.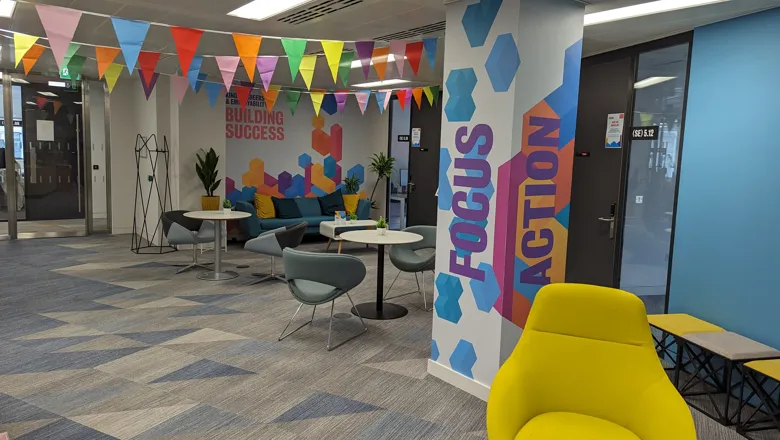 Have you visited our new Strand Careers Centre yet? If not, what are you waiting for?
The refresh of our Strand Careers Centre has been completed today with the installation of new wall vinyls showcasing our #BuildingSuccess branding and our career journey stages.
We've also provided more space for informal careers discussions and our Careers Lounges will allow students and researchers to hear about how to make the most of our digital services, explore meaningful work experience and meet employers.
Most importantly, we've incorporated various planting within the space as part of our broader commitment to sustainable practices.
We look forward to welcoming our students, researchers and employers to make use of the space in the months ahead!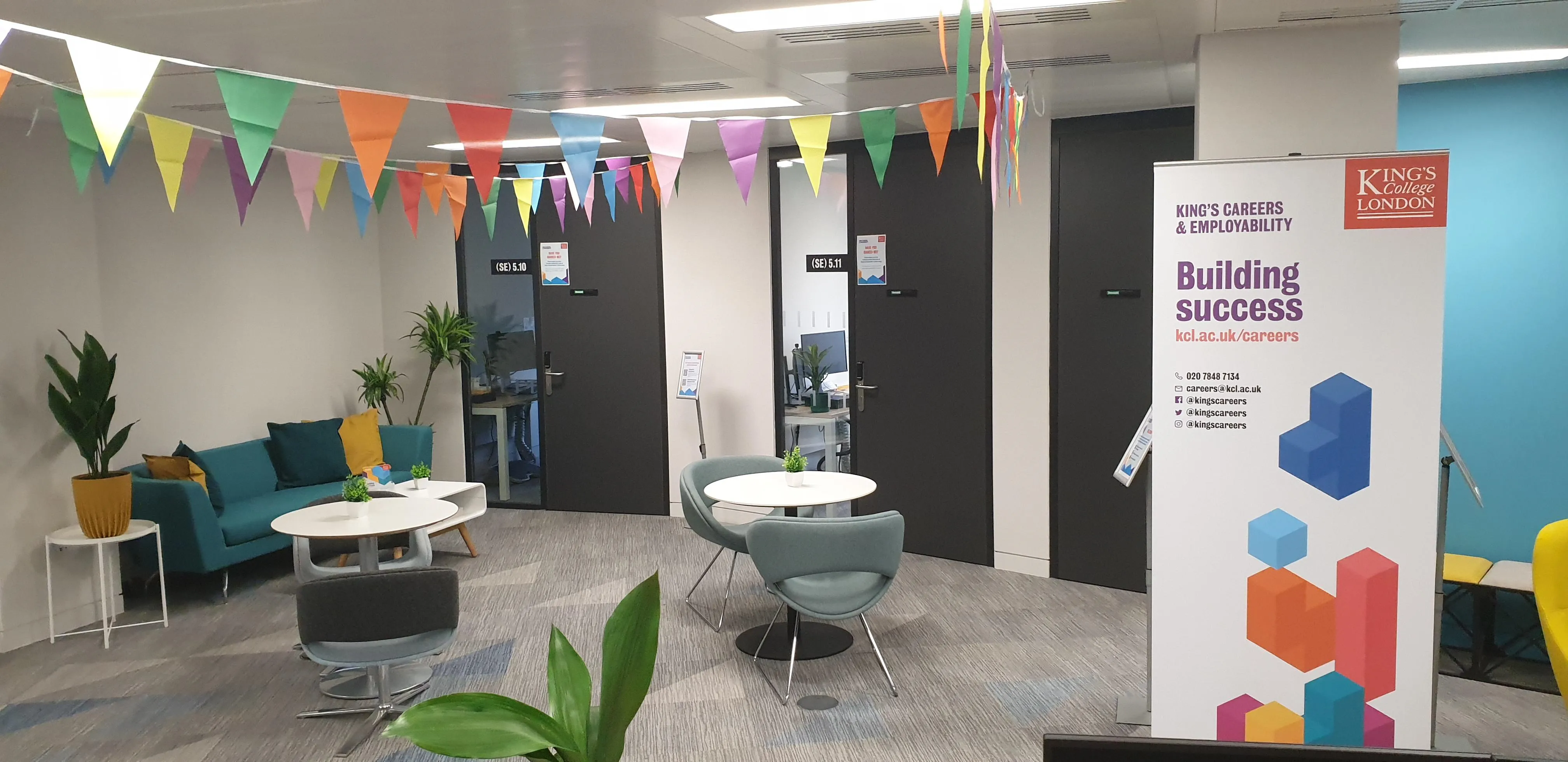 When are you open?
Our Careers Centre is open Monday-Friday throughout the year (except when the University is closed for Christmas) from 09:30 - 16:30 GMT/BST daily.
Outside of those hours, our digital services - including King's CareerConnect, KEATS and digital platforms like CareerSet are available 24/7. You'll still be able to book an appointment, view opportunities, explore our Pathways and access our podcasts, recordings and event calendar.
Appointments and events continue to be available both in-person and virtually.
How can I contact you?
Our Enquiries Team, staffed by students, are your first point of enquiry and can help direct you to the most appropriate information, advice or guidance on using our services or put you in contact with the relevant contact.
Email them via careers@kcl.ac.uk
Call us via +44 (0)20 7848 7134
Do you still offer appointments at other Campuses?
Yes! We also offer Careers Coaching & Planning appointments at Guy's and Denmark Hill Campuses regularly - you can explore availability on King's CareerConnect.
We also deliver events and appointments at Waterloo Campus occasionally, alongside interactions directly through your faculty or department so look out for our Careers Consultants in your own department also.
Five Reasons to Visit Us!
Pick-up a free copy of The Times Top 100 Graduate Employers guide (rrp. £19.99) and guides from targetjobs covering sectors such as Law, Finance and Engineering.
Attend one of our Careers Lounges - drop-in and meet members of our team to discuss finding meaningful work experiences, how to use our digital tool such as CareerSet, Shortlist.me or our comprehensive KEATS Careers virtual learning environment.
Speak with our Careers Engagement Assistants on our Enquiry Desk - these student staff can help with all your careers queries, direct you to the best support and share their own experiences with you.
Discuss your personal career journey with one of our Careers Planning & Coaching Appointments - these physical, 20-minute interactions with our Careers Consultants can be booked daily on King's CareerConnect.
Attend Careers Workshops & Employer Masterclasses in our Careers Workshop Room - held weekly across both autumn and spring, these events enable you to interact directly with employers alongside developing your skills and knowledge through our #MyNextSteps sessions.