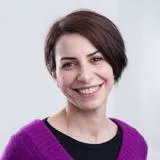 Dr Alexandra Papamichail
Post-doctoral Research Associate
Biography
Dr Alexandra Papamichail is a research associate in modern slavery and mental health (PROTECT-II project) at the Section of Women's Mental Health at the Institute of Psychiatry, Psychology & Neuroscience, King's College London. She joined King's in January 2020 after working for 3 years at Sussex Partnership NHS Foundation Trust where she worked in various clinical psychology and mental health research projects (e.g. psychosis, "personality disorders", bipolar disorder) as a psychology research assistant, research fellow and clinical research coordinator and mental health support worker in an inpatient CAMHS setting. Prior to that she worked as an hourly paid lecturer in developmental psychology at the University of Brighton. She has experience in Randomised Control Trials (RCTs), mixed method studies and qualitative methodologies.
Dr Papamichail is an Associate Fellow of the Higher Education Academy and holds a PhD in Developmental Psychology and Psychopathology from the University of Brighton. She completed her PhD investigating adolescent to parent violence and complex trauma, a form of family violence. She gained a scholarship to conduct her research from the EU Commission Daphne III project "Responding to Child to Parent Violence" and from the University of Brighton. Dr Papamichail has a mixed academic background; before she moved into psychology and mental health, she completed her BSc in History at the Aristotle University of Thessaloniki, Greece. She holds a Masters in Psychology (MEd) from the University of Bristol and a Masters in Management (MSc) focusing in Health Services from the University of Edinburgh.
Research Interests
Interpersonal violence and mental health
Child to parent violence and family violence
Child and adolescent mental health especially PTSD, and complex PTSD
Impact of early rearing adversities on child and adolescent mental health outcomes
Complex trauma and PTSD
Social influences on the aetiology, course and outcome of mental health disorders
Mental health policy
Expertise and Public Engagement
Volunteer project evaluation advisor to a local NGO in Greece working with Refugees and Asylum seekers (09/2018-12/2019).