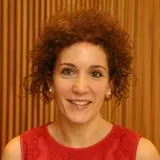 Dr Dionysia Katelouzou
Reader in Corporate Law
Contact details
Biography
Dr Dionysia Katelouzou is a Reader in Corporate Law, having joined The Dickson Poon School of Law in July 2013. She was previously a Lecturer in Law at the University of East Anglia.
Dr Katelouzou holds a PhD and an LLM (first class) from the University of Cambridge, and an LLB (summa cum laude) from the University of Athens. She is a member of the Bar of Athens and a Research Associate at the Centre of Business Research at the University of Cambridge, while in the past she had been a Visiting Researcher at the University of Pennsylvania and a Visiting Lecturer at the Institute of Advanced Legal Studies (London), among others.
She is leading the ECGI-supported Global Shareholder Stewardship project, consisting of more than 100 academic and non-academic members across 24 countries around the world and she has received research funding from the British Academy and the Economic and Social Research Council. She has authorship of approx 30 research outputs (including 1 edited handbook, 8 journal articles, 9 book chapters) with >190 citations and has been presented extensively at meetings and conferences around the world.
She was awarded the Cleary Gottlieb Steen & Hamilton LLP prize for the best ECGI Law Working Paper in 2020 for her co-authored paper, "The Global Diffusion of Stewardship Codes".
Research interests
Dr Katelouzou's research interests primarily cover:
corporate law
corporate governance
sustainable finance and regulation
law and economics
law and finance
empirical legal research
transnational and EU law
socio-legal research
One strand of her research deals with investor stewardship, shareholder activism, and sustainability, especially from a socio-legal perspective. Her work is distinctive in its empirical orientation and combines socio-legal analysis with empirical methods, including econometric analysis, network analysis, in-depth interviews and natural language processing.
Her current research looks at the role of stewardship and sustainability reporting (including climate change) in producing norms or pressuring changes in investment practices on a domestic, EU, international and transnational scale.
PhD Student Supervision
Dr Katelouzou is keen to supervise PhD students in the fields of corporate governance and sustainable finance, especially in research that seeks to combine theory and practice in new ways.
Teaching
Undergraduate
Transnational Company Law
Company Law
Postgraduate
Transnational and Comparative Corporate Law and Corporate Governance I
Transnational and Comparative Corporate Law and Corporate Governance II
Corporate Actors: Powers and Responsibilities