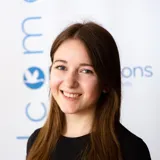 Eline Vegelin van Claerbergen
Internations, Germany
Biography
Eline Vegelin van Claerbergen, 3rd year BSc International Management student from the Netherlands, has been working in Germany as part of her international placement. Eline tells us about her experiences abroad and why an internship is 'learning every day':
I've had an incredible time working as a HR intern at the InterNations office in Munich. InterNations is the world's largest online expat community, organising events world-wide, from rock-climbing to dinner clubs. It's a nice perk that staff are signed up as members and can take part in the events we run for our expat community.
Munich is a very quiet city compared to London, and the office environment and dress code is casual and laid back. I love how the InterNations office in Munich is very international; many of my co-workers come from around the world.
My placement is an internship, but I feel like a regular member the Human Resources team.
My previous knowledge of HR was academic, but here I can see how it works in practice. I screen applicants and schedule tests and interviews. I've even led on the recruitment of two junior positions. The knowledge I apply the most is theory about selection processes. I used this to make a guide for the hiring managers about interviews and identifying potential biases.
The three biggest things I've learned are time management, how to conduct interviews and better organisational skills. The internship has been a great opportunity to hone my German language skills, as well as gaining practical experience in recruitment in Germany.
A placement is a valuable experience not only because you meet so many people and make connections in your chosen field, but also because you gain an understanding of how things are done in the real world. King's sparked my interest in Human Resources and InterNations has confirmed that I am on the right path.
If I was to sum up my experience in three words, it would be: "learning every day".