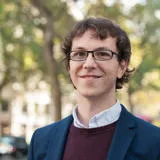 Mr Jan Flisek-Boyle
Digital Officer
Contact details
Biography
Jan is the Digital Officer for King's Business School. He creates content which builds local and international awareness and connects the school and university with students, alumnus and business.
Jan primarily creates and manages live action and animation videos, but also produces photography, copywriting, infographics and podcasts.
Jan advises on best practice for websites and social media as part of the External Engagement team. The External Engagement team builds the School's public profile and external connectivity.
He is passionate about communicating the school's mission of combining profit with purpose and success with sustainability. He seeks to demonstrate diversity, inclusivity and compassion in all King's content, and to communicate complex academic research in a clear, informative and entertaining way.
Jan's background is in digital marketing, social media, communications, digital and content. He is proud to have set records in each of his roles.