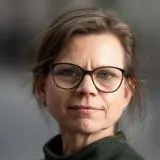 Professor Jelke Boesten
Vice Dean (Research), interim, SSPP
Professor in Gender and Development
Research interests
Equality
International development
Policy
Politics
Contact details
Biography
Jelke has an MA in History and a PhD in Gender Studies from the University of Amsterdam. Prior to joining King's, she held a research position at the University of Bradford, Departments of International Development (2004-06) and Peace Studies (2006-07), and a lectureship at the University of Leeds in Politics and International Studies (2007-2013).
In 2011-12, she held a Jennings Randolph Senior Fellowship at the US Institute of Peace, Washington DC. She was offered an Alberto Flores Galindo Visiting Professorship, Pontifícia Universidad Católica del Perú, for 2021, and a Visiting Fellowship at the Centre for Latin American Research and Documentation (CEDLA) in Amsterdam.
Over the years, Jelke has looked at different aspects of violence against women in war and in peace, social policy and transitional justice, and persistent intersecting inequalities, particularly in Peru. 
At King's, she founded and convenes the Gender Studies Network as well as co-convenes the Visual and Embodied Methodologies (VEM) network. The most recent project coming out of VEM is the exploratory and collaborative arts-based research project called Imaging Social Justice.  
Research
Jelke's current research focuses on transformative gender justice in post conflict societies – the idea that interventions to address gendered injustice, such as violence against women and girls, should aim to transform the social, political and economic relations that underpin the possibility of violence.
She worked on a collaborative project exploring the transformative potential of memorial arts and symbolic reparation.
Currently, she is working on a research project with Peruvian veterans of the Internal Armed Conflict (1980-2000). The project seeks to understand veterans' perspectives on perpetrating gendered violence in and beyond armed conflict, funded by the British Academy. The project has co-produced some extraordinary images -paintings that reflect the narratives of ex-combatants.
Teaching
PhD supervision
Jelke is interested in supervising students focusing on the following research areas:
Gender and social policy
Gender based violence in war and/or the everyday
Intersecting inequalities
Gender and transformative justice
Social development and emancipatory processes
See the full list of Jelke's current and existing PhD students
Further details
Features
JELKE BOESTEN: Sexual violence is widespread in society and exists in a continuum between war and peace.

Features
JELKE BOESTEN: Sexual violence is widespread in society and exists in a continuum between war and peace.