Visual Embodied Methodologies Network
The Visual Embodied Methodologies (VEM) network, based within the Faculty of Social Sciences & Public Policy, aims to create spaces of knowledge-exchange and research excellence around visual, embodied and art-based methodologies within, across and beyond Social Sciences.
We believe that in using these methodologies lies the potential for co-produced forms of knowledge, opening possibilities to explore otherwise difficult to articulate issues.
The network, founded in 2019 by Dr Negar Elodie Behzadi and Dr Jelke Boesten, emerged within the Department of International Development. It has since expanded to span the Faculty of Social Sciences and Public Policy, and is co-coordinated by Dr Jelke Boesten, Professor Cathy McIlwaine (Geography) and Dr Rachel Kerr (War Studies). The network partners with Arts Cabinet in experimenting with different forms of artistic knowledge production. We invite members from across the College.
Publications from the Visual Embodied Methodologies Network.
Our Partners
Antonella Mazzone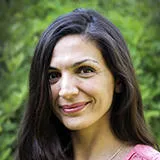 Negar Behzadi