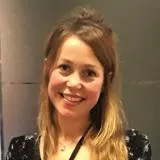 Dr Joanne Newbury
Postdoctoral Research Fellow
Biography
I joined KCL in 2013 to start a multidisciplinary MSc+PhD at the Social, Genetic and Developmental Psychiatry Centre, Institute of Psychiatry, Psychology and Neuroscience. Prior to my postgraduate and postdoctoral roles at KCL, I completed my BA at Durham University, in Combined Honours in Anthropology and Psychology. For two years between undergraduate and postgraduate education I also worked as a MENCAP support worker to support adults with learning disabilities. Since October 2018 I have been funded by an ESRC Postdoctoral Research Fellowship. My research explores the mechanisms linking the urban environment to the development of psychotic experiences during childhood and adolescence, such as neighbourhood social factors (e.g., crime), environmental factors (e.g., air pollution), and genetic confounding. 
Research interests:
Psychosis  
City living 
Psychotic experiences 
Neighbourhood characteristics 
Air pollution 
Research groups:
I am a member of the Environmental Risk (E-Risk) Longitudinal Twin Study research team. 
Teaching:
2018-2019: Teaching assistant (as part of the Mentoring, Teaching and Learning Support Scheme) for MSc Mental Health Studies students on the Social and Community Mental Health module. 
Expertise and Public Engagement:
2017 – Invited roundtable discussant at CityLab Paris, to discuss "What can cities do to ensure the brightest future for their youngest citizens" with international policymakers, businesses and charities. 
2018 – Demonstrator for MQ mental health charity event at the Houses of Parliament 
2019 – Press briefing with international journalists at the Science Media Centre to discuss my findings on air pollution and adolescent psychotic experiences. 
2019 – Blogs for ScienceBreaker and Medical Research. 
2019 – Podcast for Breathific, an air quality charity. 
2019 – Invited panel speaker at Connected Places Catapult cross-sector conference, to discuss my findings on air pollution and discuss issues related to "Cities for Future Humans"