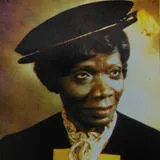 Kofoworola Abeni Pratt
Nursing pioneer
Biography
Kofoworola Abeni Pratt (Nursing, 1950) was the first black nurse in the NHS and a pioneer of nursing in post-independence Nigeria.
Kofoworola was born to a prominent Nigerian family in Lagos in 1915. Like Florence Nightingale, she grew up wanting to be a nurse, but her father did not consider it a suitable career. Instead she trained as a teacher and worked for several years at the United Missionary College in Ibadan, Nigeria.
Kofoworola married Olu Pratt, a Nigerian pharmacist who later studied medicine at St Bartholomew's Hostpital, London. In 1946 Kofoworola began studying nursing at the Nightingale School at St Thomas' Hospital, qualifying as a state registered nurse in 1950. She worked for the NHS for the next four years, the first qualified black nurse to do so.
In 1954, Kofoworola returned to Nigeria. Following independence in 1960, she rose to become first black matron of University College Hospital, Ibadan. In 1965 she was appointed Chief Nursing Officer for Nigeria. She was also the vice-president of the International Council of Nurses and later became Commissioner of Health for Lagos.
Kofoworola was awarded the Florence Nightingale Medal (the highest international distinction a nurse can achieve) in 1973 and she was made a fellow of the Royal College of Nursing in 1979.