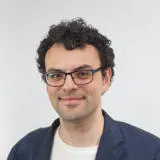 Laurence Jasper
Lay Catholic Chaplain
Contact details
Biography
Laurence Jasper is our lay Catholic Chaplain based at the Guy's campus. He is a member of the South London Universities Chaplaincy team.
Born in London, Laurence is himself a King's graduate having studied History here from 2007-2010. When at King's, Laurence was President of the Catholic Students Society and after graduating became Catholic Chaplaincy Assistant to the College and to the London School of Economics and Political Science. He then took up the position of lay Chaplain of a Catholic sixth form college in Kent where he worked for five years.
Laurence is an active member of his parish church and has served as a minister of the Word, extraordinary minister of the Eucharist and Confirmation catechist. He enjoys teaching the Catholic faith and is regularly asked to lead sessions, and question and answer panels in churches in the Archdiocese of Southwark.
He is currently completing a Master's degree in Catholic Applied Theology at the Maryvale Institute, an international Catholic distance learning college in Birmingham.
In his spare time, he loves watching films (his favourite being the Lord of the Rings Trilogy) listening to music (Muse, Coldplay, Mumford and Sons etc), walking in the countryside, visiting cathedral cities, and following his favourite football team, Arsenal FC.