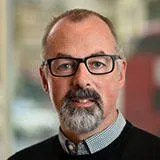 Professor Mark Mulligan
Professor of Physical & Environmental Geography
Contact details
Biography
Dr Mark Mulligan completed his undergraduate degree in geography at the University of Bristol from 1988-1991. After a brief period in the rainforests of Brunei with the then Royal Geographical Society (RGS) Brunei Rainforest Expedition, he moved to King's for his PhD on 'Modelling hydrology and vegetation change in a degraded semi-arid area', supervised by Professor John Thornes.
Mark took up the post of Lecturer in Geography at King's in September 1994 at the age of 24 and has been teaching and researching in the Department since, with a year (2003-2004) research secondment to Istituto di Botanica, Universita' di Napoli, Italy.
In 2003, Mark was appointed Reader in Geography and in 2004 was awarded the Royal Geographical Society – Institute of British Geographers Gill Memorial Award for 'innovative monitoring and modelling' of environmental systems. 
Mark is an honorary fellow at the United Nations Environment Programme World Conservation Monitoring Centre (UNEP-WCMC), adjunct Doctoral Graduate Faculty at Texas State University 2007-2012, and trustee of PROAVES UK.
Research
Development and application of spatial policy support systems
Agriculture, land use change and climate change impacts on water and ecosystems
Ecosystem services mapping and modelling
Tropical forests and tropical montane cloud forests
Environmental modelling, environmental Geographical Information Systems (GIS) and environmental monitoring with open source hardware.
Mark's research interests include climate, hydrology and vegetation processes and dynamics, their interactions with each other and with human activity in the Mediterranean and tropical humid environments. His research applies high-tech field monitoring based on his open-source designs at www.freestation.org and distributed process-based computer modelling.
He is committed to science in the service of society and has thus focused (collaboratively with industrial partners) on making his research results available to industrial and policy-oriented users through decision support tools at www.policysupport.org and web-based modelling tools and data distribution systems at geodata.policysupport.org.
Teaching
Undergraduate
Personal tutor (Years 1, 2 and 3) 
Academic tutor (Year 1)
Deputy chair (Undergraduate exam board)
Geography BSc (Dissertation supervisor)
6SSG3030 Tropical Forests in a Changing Environment 
Postgraduate
Academic tutor
Environmental Monitoring, Modelling and Management MSc (Convenor)
Geography MA/MSc (Convenor)
7SSG5031 Modelling Environmental Change At The Land Surface
7SSG5109 Environmental Geographical Information Systems 
7SSG5035 Monitoring Environmental Change
7SSG5111 Environmental Research Design and Applications
Dissertation in MA/MSc Geography
Contributor: Seminars in Environmental Management
PhD supervision
Mark welcomes PhD students looking to research a variety of topics regarding policy support, ecosystem service evaluation and environmental change, at scales from local to global and with particular emphasis on tropical forests and semi-arid drylands.
He works with a large body of (mainly overseas) PhD students, having been the principal supervisor for the successful completion of 32 PhD candidates since 2000. View a full list current and existing PhD students.
Further details
Spotlight
King's researchers have developed user-friendly online tools to better understand the multiple impacts of land-use and land use change.
Spotlight
King's researchers have developed user-friendly online tools to better understand the multiple impacts of land-use and land use change.