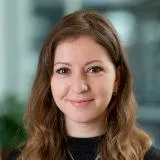 Dr Monica Leverton
Research Associate
Contact details
Biography
Dr Monica Leverton joined the NIHR Policy Research Unit in Health & Social Care Workforce in December 2020. She is Principal Investigator of the NIHR SSCR-funded 'DemChamp' study, looking to define and develop the role of Dementia Champions in the homecare sector. Monica is also a co-investigator on the NIHR Three Schools in Dementia project – Forward with Dementia – a collaborative study between researchers from King's College London, University College London, and the University of Newcastle, as well as an NIHR Applied Research Collaboration (ARC) Research Fellow, focusing on social care research priorities in South London. She also chairs the quarterly Home Care Research Forum, attended by national and international groups of stakeholders interested in home care research, and is an editorial board member for BMC Geriatrics.
Monica's area of expertise is dementia care, completing her Alzheimer's Society Centre of Excellence PhD at UCL in 2021, which explored homecare for people living with dementia using a qualitative ethnographic approach. This work informed the development of a coproduced training and support programme for the homecare workforce. As a qualitative researcher, her methodological interests are innovative ethnographic and visual methods, with the aim of making research more accessible to audiences beyond academia.
Monica has a background in psychology and has worked on several large mental health research trials across the NHS, University College London and Queen Mary University of London. She has also conducted research within the Mental Health Policy Research Unit at UCL, including studying early impacts of the COVID-19 pandemic on mental health care and service use. She has taught and supervised Clinical Mental Health MSc students, focusing on qualitative research methods and ethical practice.
 Monica Leverton: ORCID iD