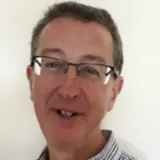 Dr Neil Snowise
Visiting Senior Lecturer
Contact details
Biography
Dr Neil Snowise is a Visiting Senior Lecturer in the Centre for Pharmaceutical Medicine Research, Institute of Pharmaceutical Science, School of Cancer & Pharmaceutical Sciences.
He is currently an independent pharmaceutical physician, having left GlaxoSmithKline (GSK) in 2019 and after 20 years in the pharmaceutical industry. He has worked at GSK in a range of roles including Medical Affairs and within the Respiratory Medicines Development Centre focused on late-stage clinical development in allergy and asthma. He has led clinical trials on inhaled asthma drugs and was Project Physician Lead for a novel oral asthma medicine before the programme was terminated. During this time, he completed an MSc in Pharmaceutical Medicine with Distinction at Surrey University.
Subsequently, Dr Snowise was Director of Respiratory Medicine at a smaller clinical development company, focused on early and late phase respiratory clinical development, as well as an acquisition, before returning for a second stint at GSK in 2014, working in the Global Respiratory Franchise. He managed a group of physicians, who were medical leads for asthma and COPD in medical affairs across the world, before moving to be Medical Director in the COPD Team, supporting the launch of a new inhaled medicine and leading an international Real-World study.
Prior to joining the pharmaceutical industry, he was a senior partner in a GP Practice in Bath and Lecturer in General Practice at Bath University. He continued clinical practice until 2016, with a weekly hospital respiratory clinic in Bath. Dr Snowise is a Fellow of the Faculty of Pharmaceutical Medicine at the Royal College of Physicians and is also a member of The Policy and Communications Group at the Faculty.