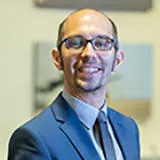 Dr Bence Nemeth
Senior Lecturer in Defence Studies Education
Academic Programme Director of the Advanced Command and Staff Course
Contact details
Biography
Dr Bence Nemeth joined the Defence Studies Department in August 2017, and primarily teaches British and international military officers at the Defence Academy of the UK. Currently, he serves as the Academic Programme Director of the Advanced Command Staff Course (ACSC), which is the flagship postgraduate course of the Joint Services Command and Staff College centred on the military operational level of warfare.
Dr Nemeth is regularly invited to give guest lectures at European military staff colleges including the Baltic Defence College, the Czech University of Defence, the Irish Command and Staff School and the Netherlands Defence Academy. Prior to moving to King's, Dr Nemeth had been working in various positions at the Hungarian Ministry of Defence for eight years, and also taught at the Hungarian National Defence University.
His book titled 'How to Achieve Defence Cooperation in Europe? - The Subregional Approach' was published by Bristol University Press in 2022.
Dr Nemeth completed his PhD in Defence Studies at King's College London and holds an MBA in Defence Systems Management from the US Navy's Naval Postgraduate School (Monterey, CA).
Research Interests 
Multinational defence co-operation
Military Innovation
Strategic management in defence institutions
European security and defence
South Korean defence policy
See a complete list of publications.
PhD Supervision
Dr Nemeth is happy to accept PhD students under the following subject areas:
Defence Cooperation
Military Innovation
Strategic Management in Defence Organisations
Read more