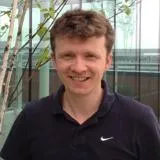 Dr Stephen Andrew Ashford
Honorary Senior Lecturer
Contact details
Biography
Dr Ashford is a consultant clinician, with a focus on the development and testing of robust measures to look at clinical needs, inputs and outcomes. He focuses on practice-based research that can be implemented in real-life to improve the quality of patient care. He is committed to scientific rigour in relation to outcome measure development and application with an existing track record of impact. This has and will continue to produce a practical set of tools that patients and clinicians find useful for decision-making in clinical rehabilitation, with a particular focus on rehabilitation, complex neuro-disability and spasticity management.
Dr Ashford studied Physiotherapy at Salford University and graduated in 1993, completing an MSc in Neurorehabilitation at Brunel University London in 1998. He has a Postgraduate Certificate in Education from the University of Greenwich. He subsequently became a lecturer and course director for the MSc Neurorehabilitation at Brunel University, while continuing to work clinically. In 2003, he became a clinical specialist and research physiotherapist at the Regional Hyper-acute Rehabilitation Unit, Northwick Park Hospital and Honorary Research Fellow, Department of Palliative Care, Policy and Rehabilitation, King's College London.
Dr Ashford completed his PhD at King's College London investigating the measurement of patient-reported arm function following treatment for spasticity. In 2012 he became a consultant physiotherapist and in 2013 NIHR Clinical Lecturer. Dr Ashford a Postgraduate Certificate in non-medical prescribing in 2013, and independent prescribing in 2014 at London Southbank University.
Dr Ashford has published over 60 peer-reviewed papers in the rehabilitation literature as well as book chapters, national and international conference presentations and clinical guideline contributions, editing two major national guidelines on spasticity management. Latterly he has been a lead editor for the national guideline update for spasticity from the Royal College of Physicians. He is also the second author, contributing particularly to the systematic review, of the national inter-collegiate guideline for splinting management in neuro-disability with endorsement from the National Institute for Clinical Excellence (NICE). He has contributed to the last two inter-collegiate guidelines on stroke published by the Royal College of Physicians and acted as a reviewer for the NICE guidance on stroke. He also has an established track record as an expert in the management of complex neuro-disability and spasticity management with physical and pharmacological interventions.
Dr Ashford developed with local, national and international colleagues a programme of research, which builds strongly on his clinical expertise in the management of spasticity and the physical aspects of neurological rehabilitation. The programme has incorporated the development of outcome measurement using Goal Attainment Scaling (GAS) in conjunction with measures such as the Arm Activity measure. During his NIHR lectureship, he developed the Leg Activity measure, Leg Therapy recording Schedule and Goal Attainment Scale Legs, which are now being used in practice. For this work, he was awarded an NIHR CLAHRC fellowship.
He has taken the lead role as investigating physiotherapy clinician for the Upper Limb International Spasticity (ULIS) programme (Ashford et al. 2015; Turner-Stokes et al. 2016). Dr Ashford is one of four senior investigators for the programme and leads on outcome measurement. This has resulted in a large number of conference presentations and publications. The programme is international across four continents in 31 countries. Outcome measures he has developed such as the Arm Activity measure (ArmA) and Upper Limb Spasticity Therapy Schedule (ULSTR) have been used and in many cases incorporated into routine practice. In addition, measures such as the Leg Activity measure developed more recently are also now being used nationally and globally.
Research Interests
Rehabilitation, Palliative Care, Management of spasticity and contracture, Psychometrics, Patient-reported outcome, Rehabilitation planning, Goal setting and attainment.
Spotlight
Research from King's is transforming rehabilitation services to improve the lives of patients with severe disabilities at the same time as cutting costs to...
Spotlight
Research from King's is transforming rehabilitation services to improve the lives of patients with severe disabilities at the same time as cutting costs to...