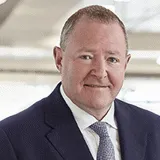 Warwick Hunt MNZM
Executive Fellow, King's Business School
Independent Non-Executive Director, Bank of New Zealand
Biography
Warwick Hunt was appointed as an independent non-executive director of the Bank of New Zealand in November 2022 and is a director of Genesis Energy Limited. Warwick is a Member of the New Zealand Order of Merit.
Born in South Africa, he migrated to New Zealand where he joined PwC and was elected as the Territory Senior Partner for two consecutive terms. He enjoyed a long international career at PwC, most recently as the Managing Partner of PricewaterhouseCoopers United Kingdom until 31 August 2022.
Warwick holds a Bachelor of Accountancy (with honours) from the University of the Witwatersrand in Johannesburg in addition to FCA (Australia and New Zealand), ACA (ICAEW) and CA (SA) designations.