05 March 2021
Celebrating Women in Sport
King's Sport
From performance athletes, staff members and our regular gym-goers find out how King's Sport has supported the women in our community.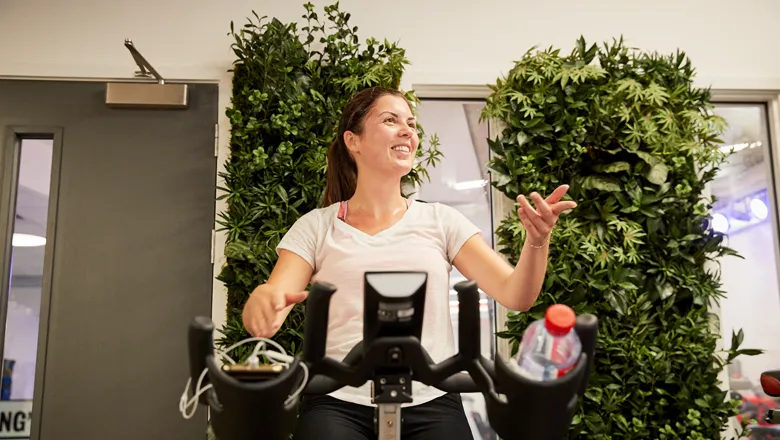 From performance athletes, staff members and our regular gym-goers find out how King's Sport has supported the women in our community.
Supporting mental & Physical Wellbeing
An Anonymous second-year student discloses her experience with the Active Wellness Scheme. 
'The AWS program helped me stay physically and mentally healthy through quarantine and establish good habits for the longer-run. I have a background in gymnastics and track and field, which left me with chronic injuries in my knees and lower back.
Even though I always had a good relationship with exercise and well-being in general, the sedentary lifestyle of lockdown triggered these injuries and that took a toll on my mental health as well when I started struggling with motivation and accountability.
The scheme came in at just the right time as I needed that push to help me reconsider my priorities through not only a tailored exercise program but more importantly weekly 121 check-ups with my coach and goal-setting sessions.
My coach Laura was absolutely fantastic in creating a program that was right for me and worked for my schedule, space and time. Laura followed a holistic approach to a healthy lifestyle by creating a log for me to fill in every week which we were co-monitoring and by giving me tips on nutrition, hydration, sleep and time management.
I felt very safe and comfortable speaking to my coach about everything and that for me made a massive difference. Without realising it, building this relationship and trust with my coach helped me keep trying for these small changes, which eventually became habits I follow to this day as they have improved not only my physical and mental health when dealing with stressful and uncertain situations, but also with my academic and professional performance.'
- Anonymous, MA Arts and Cultural Management 2nd year.
I have worked for King's Sport since 2014 and it's difficult to put into words how much I have learnt and grown during my time here, and how grateful I am of the support of the King's Sport team and other staff and students I have met along the way.
I part of my job I absolutely loved was taking the classes in the gym (and also online), spin in particular, as I loved coming up with playlists and the class always got the endorphins going!
One of the programmes I loved working on was the Active Wellness Scheme, a scheme that supports people with mental health challenges by using physical activity. The feedback we got from those who had been on the scheme was always so humbling and it was such a rewarding part of my job.
Sport really can bring people together and King's Sport is so much more than treadmills and dumbbells. It's community, it's wellbeing, it's learning, it's supporting each other, it's feeling good, it's fun and it's friendships.
-Sophie Kennedy, Gym Supervisor
My name's Laura and I am the Performance Coordinator at King's Sport. I previously competed for Great Britain in Women's Artistic Gymnastics and now enjoy working with athletes to help develop themselves as individuals and achieve their goals both in and outside of sport.
Since being at King's, I have met so many empowering females who have motivated me daily. From working with the performance athletes, active wellness scheme & members of the King's Sport gyms; it's fantastic to see women shining in every direction.
In my role, I am inspired daily by the current and alumni King's Sport Performance Athletes.
It's incredible to see so many females from King's competing on the world stage and being so passionate about sport.
Having the ability to help these individuals thrive and watch them excel in their dual careers is extremely rewarding. The King's Community is an inspiring place to be and I feel very fortunate be part of it!
- Laura Edwards, Performance Coordinator
Photographer: Fred Zimny
Supporting our student-athletes
My name is Elsa Desmond, I am 23 years old, and I am the first woman to represent Ireland internationally in the sport of Luge.  Over the last 20 years the number of women competing in my sports singles event has grown to now equal the number of men and I am so proud to be a part of it.
Alongside my sport I am in my final year of studying medicine, balancing this with elite sport have always been a challenge, at times it has been tough, but it has always been worth it. I feel privileged to be surrounded by so many strong and inspirational women in the King's sport community. 
- Elsa Desmond, Final Year Medic Student
To celebrate International Women's Day we are hosting a week of exclusive This Girl Can sessions, open to all in the King's Community. 
In this story